Rides
The Most Badass Movie Motorcycles (18 Photos)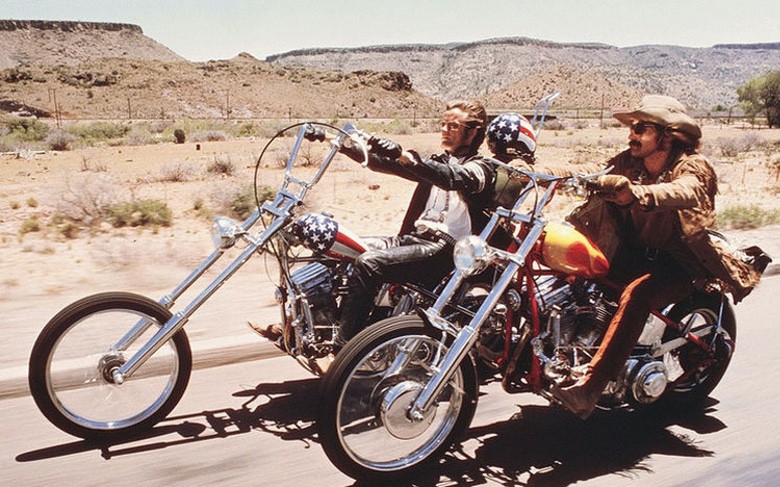 Purple Rain (1981 Honda Hondamatic CB400A)
In some cases, it's the rider who makes the bike. In other cases, it's the bike that makes the rider. In film, talented stunt-people ride most bikes. But while you're watching these movies, it's the characters riding these bikes who burn that rubber into your brain. If you haven't seen some of these movies yet, consider this a shopping list next time you want to see crazy bike stunts or simple bike cool.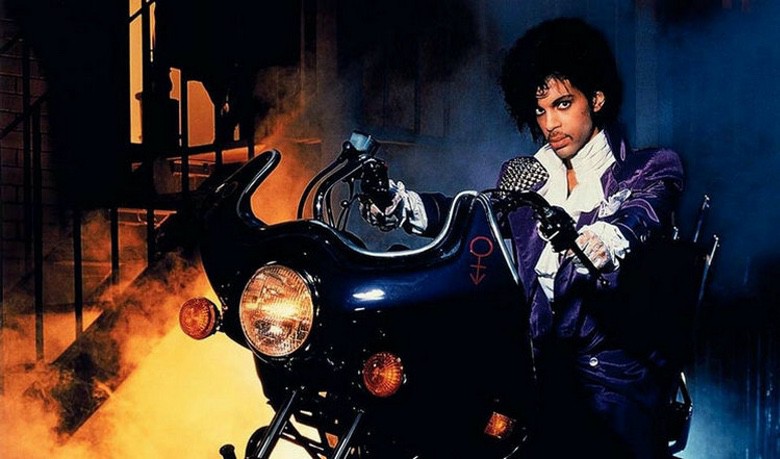 Prince's custom purple Honda was one of the most memorable things about Purple Rain–if you don't count the classic soundtrack and Apollonia Kotero, of course. Anyone else would be scared to load their custom white axe on the back of their bike with no case to protect it. Not Prince.
Thunderball (BSA Lightning A65-L)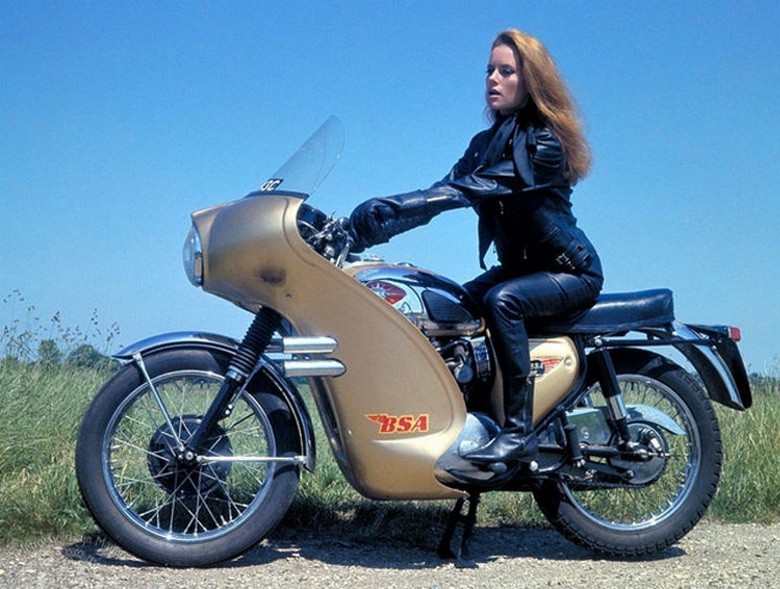 When we think of James Bond films, we usually think of cars. Bond rides a lot of bikes, too–but none with missile launchers, like this one ridden by SPECTRE assassin Fiona Volpe (Paluzzi). What other bikes do you know that inspired a short film called, "A Child's Guide to Blowing Up a Motor Car"? Yep, that's what we thought.
Salt (2009 Triumph Street Triple R)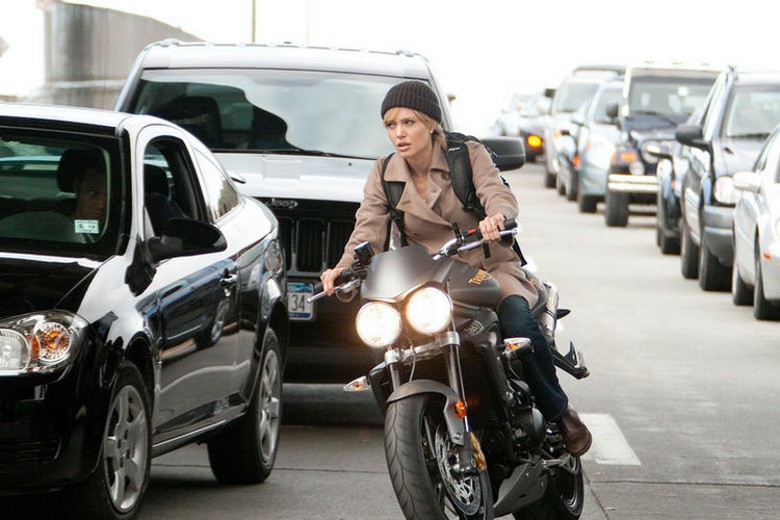 Street Triple not badass enough for you? That's why Triumph developed the Street Triple R. To boost the badassitude, Angelina Jolie did all her own stunts in this movie–including the ones on the bike.
Transformers: Revenge of the Fallen (2009 Aprilia RS 125)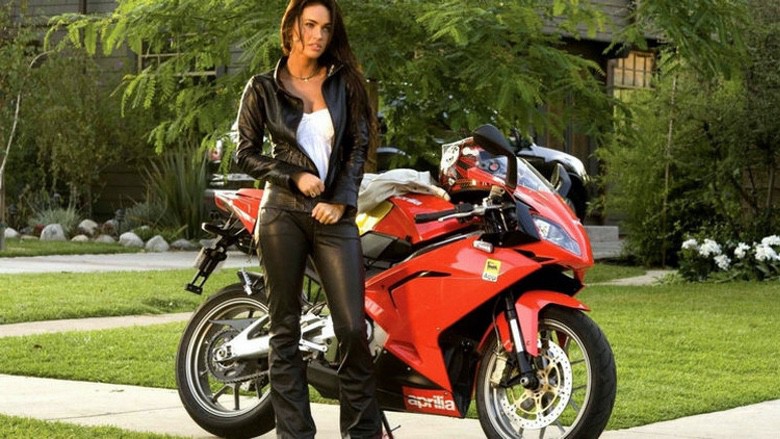 Ace mechanic Mikaela Banes (Megan Fox) rescues her hapless boyfriend, Sam Witwicky (Shia LaBeouf) on her trusty RS 125. Don't let its small size fool you. This lightweight pocket rocket is powered by the famed Rotax-Aprilia two-stroke engine. There's a reason this bike owns the 125cc classes in Europe.
Top Gun (1985 Kawasaki GPZ 900 R)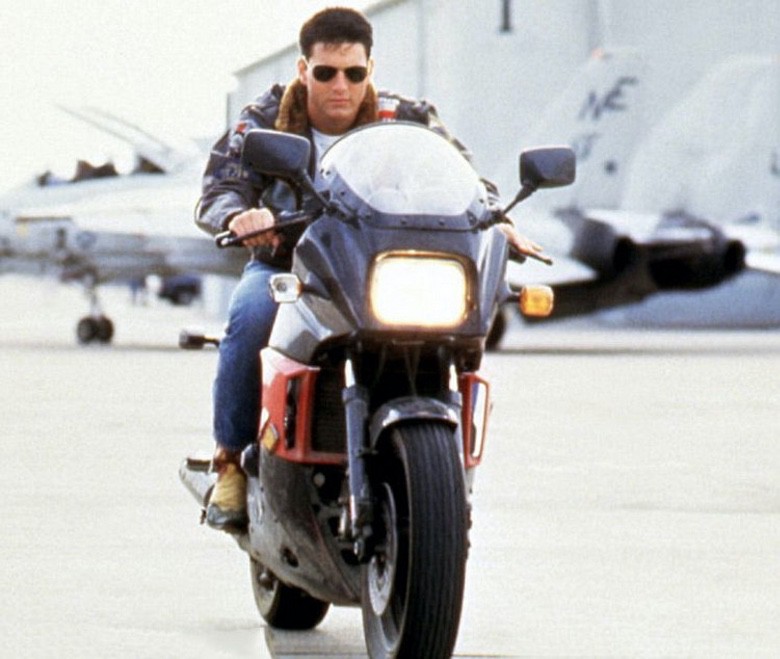 Maverick (Tom Cruise) was an icon if you grew up in the '80s. You wanted his skills, his plane, his girl, his bike–and you envied his cool. At the end, he even took his Kaw racing against fighter jets. Spoiler alert.
Captain America: The First Avenger (2012 Harley-Davidson Softail Slim)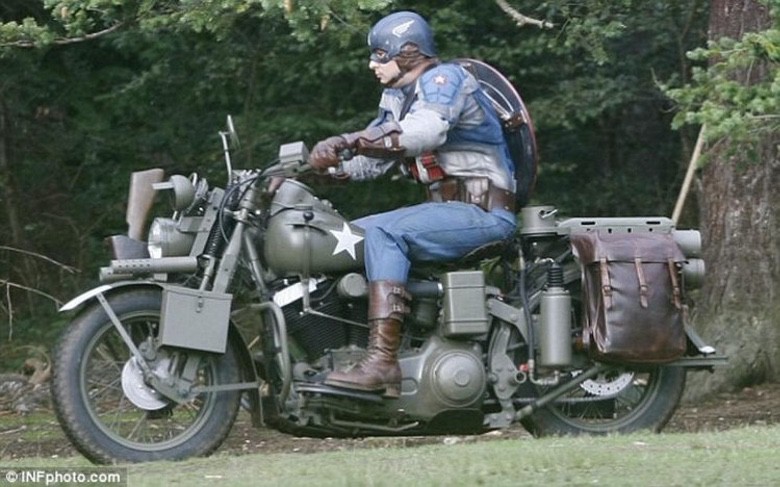 Captain America came of age in the World War II era, so producers of the film wanted to put him on a WLA–the bike Harley was producing for the U.S. Army during that time period. To be more practical, they instead made over a modern Softail Cross Bones to look like a WLA. We just like it because it's such a part of Captain America's identity, and it was cool to see it portrayed this way.
First Blood (Yamaha XT 250)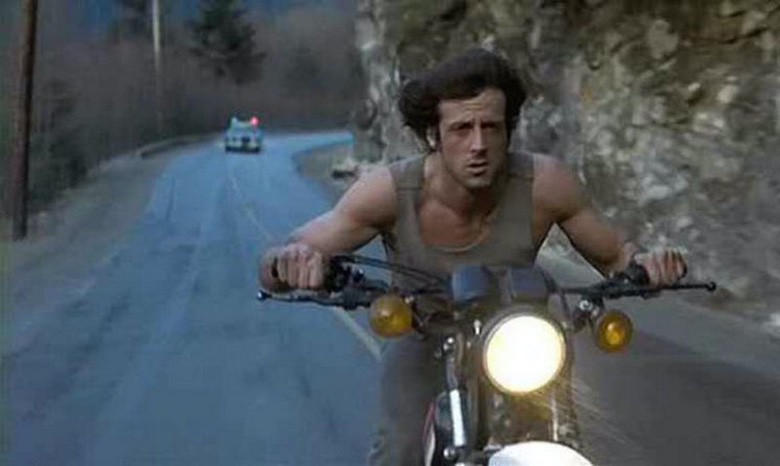 You know how lots of SUVs couldn't actually go off-roading if they tried? Rambo's XT 250 is nothing like those, and he puts it through its paces in this film as he's being chased by Sheriff Teasle (Brian Dennehy). Need a bike to go over the river and through the woods? Try this one.
Star Trek (Custom police hoverbike)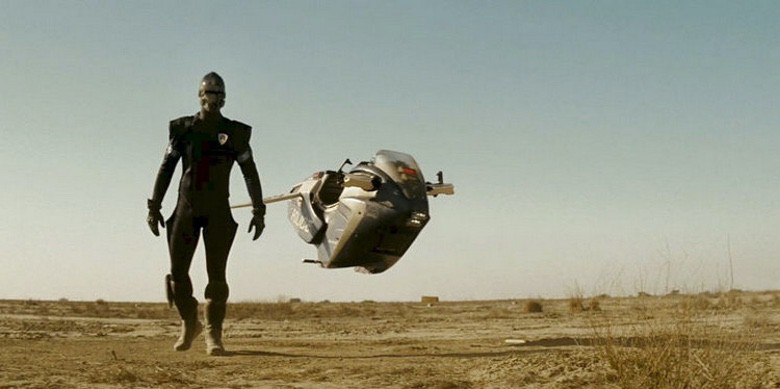 James T. Kirk (Chris Pine) rides a pretty badass bike that was custom-designed for this movie. The only thing badder than that bike? The Iowa police custom hoverbikes. That's right. Bikes that can fly.
Quantum of Solace (Montesa Cota 4RT)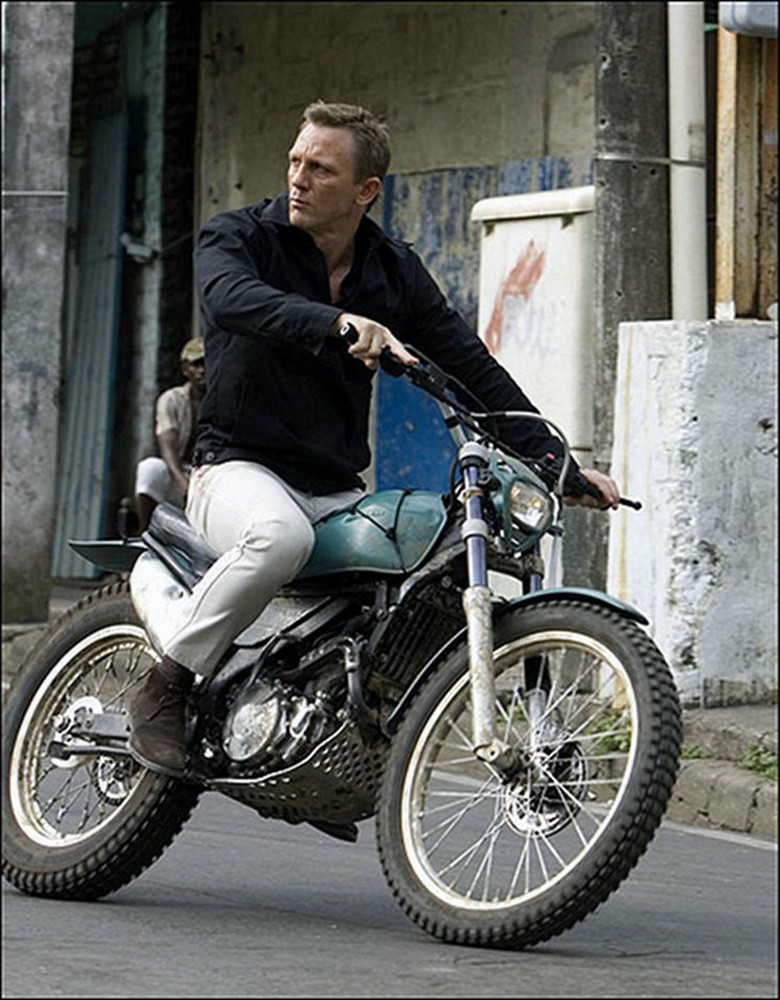 James Bond masters every piece of machinery he picks up–including a trials bike like the Cota 4RT. A previous Montesa model was what multiple world trials champion Dougie Lampkin won his titles on. No wonder Bond chose its slightly more advanced successor. Nothing but the best for 007, after all.
Pulp Fiction (1986 FXR Super Glide)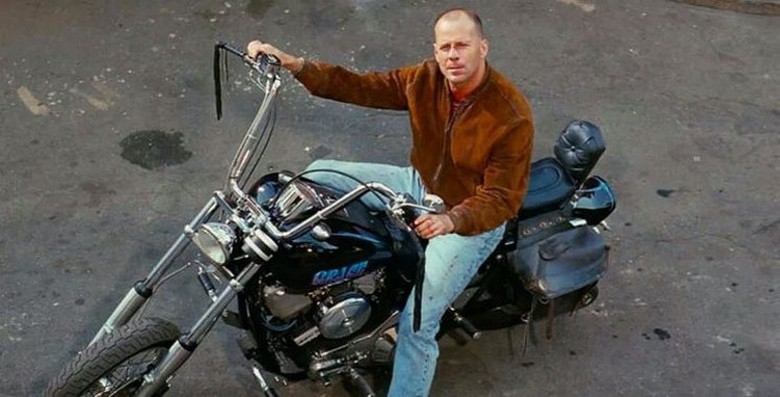 After Butch (Bruce Willis) and Marsellus (Ving Rhames) survived a harrowing visit to Zed's pawn shop, Butch realized the key he'd stolen from Zed belonged to a chopper called Grace. It was a much cooler ride than the dilapidated white Honda Civic he'd been driving earlier–a fact not lost on his girlfriend, Fabienne (Maria de Medieros). It only showed up for a single scene, but that scene gave a whole new meaning to the phrase "get to the chopper."
Terminator 2: Judgment Day (1990 Harley-Davidson Fat Boy FLSTF)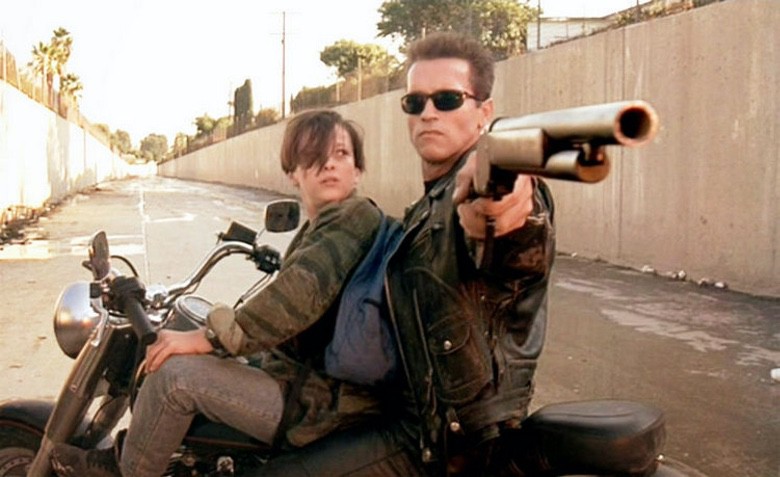 From the moment the Terminator says, "I need your clothes, your boots, and your motorcycle," this Fat Boy becomes so much more than just your average H-D. We wouldn't want to run into the Terminator on foot, let alone with two wheels and a shotgun. John Connor couldn't be safer.
TRON: Legacy (Custom light cycle)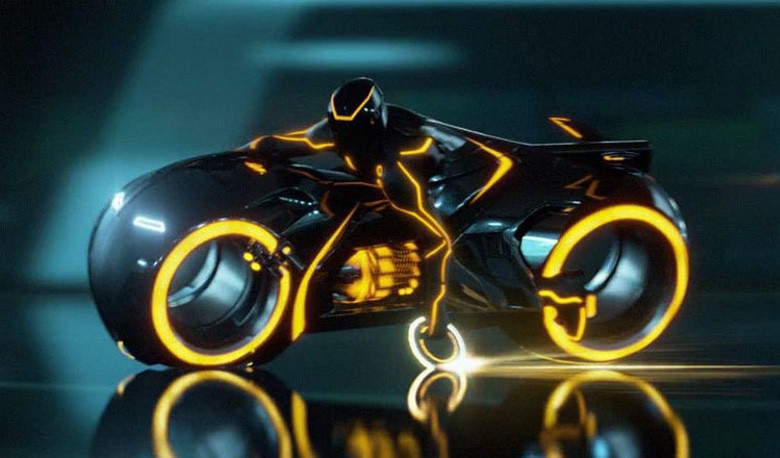 Everyone knows the ultimate dream of motorcyclists is to actually become one with their motorcycles. Well, that and look cool doing it. World, meet the TRON light cycles. Light cycles, meet the world.
Terminator: Salvation (Custom design based on the Ducati Hypermotard 1100)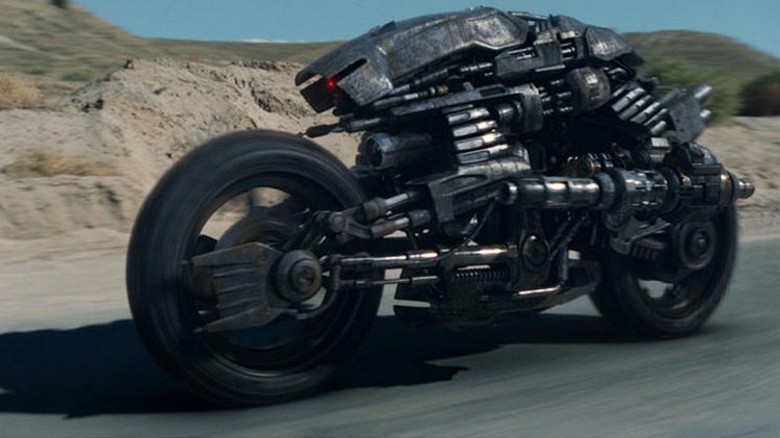 What's more menacing than Terminators? Mototerminators. They don't need to find wheels; they've got them built in. What would we like to come after us less than Ahnold? These.
The Matrix Reloaded (2001 Ducati 996)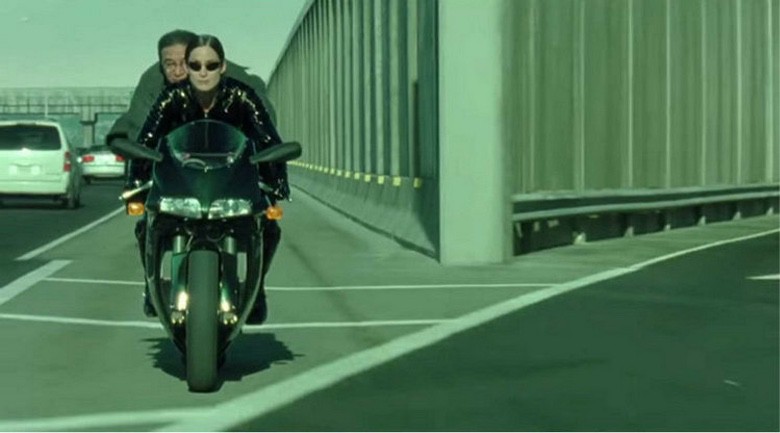 Even if you've never seen this movie, you've seen the freeway chase scene where Trinity (Carrie-Anne Moss) rescues a nondescript businessman on the back of her 996. Her agile piloting of this bike is how she fights back, and it's truly awe-inspiring.
Machete (Softail)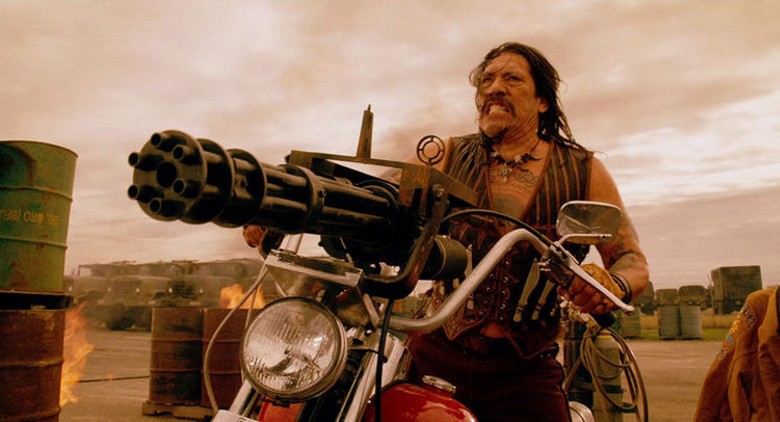 How do you make your Softail as badass as you are? If you're Machete (Danny Trejo), you mount a minigun on the handlebars.
The Dark Knight (Bat-Pod)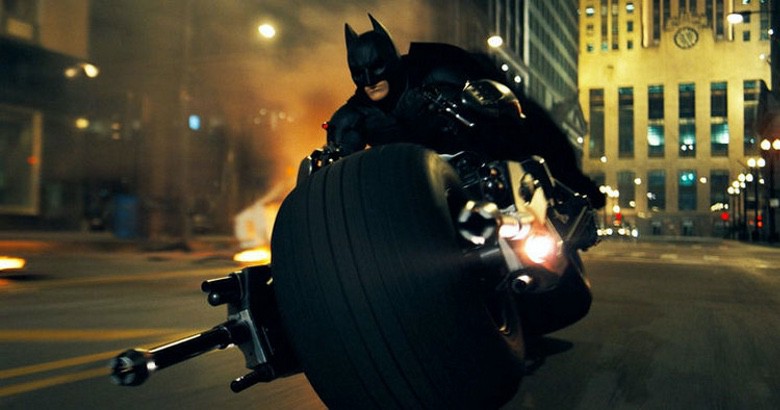 How do you top the Tumbler if you're a ridiculously rich crime-fighter? By building a Bat-Pod. Because any motorcycle that can't elongate and change shape in mid-ride–while shooting grappling hooks–is so five minutes ago.
The Great Escape (1961 Triumph TR6 Trophy Bird)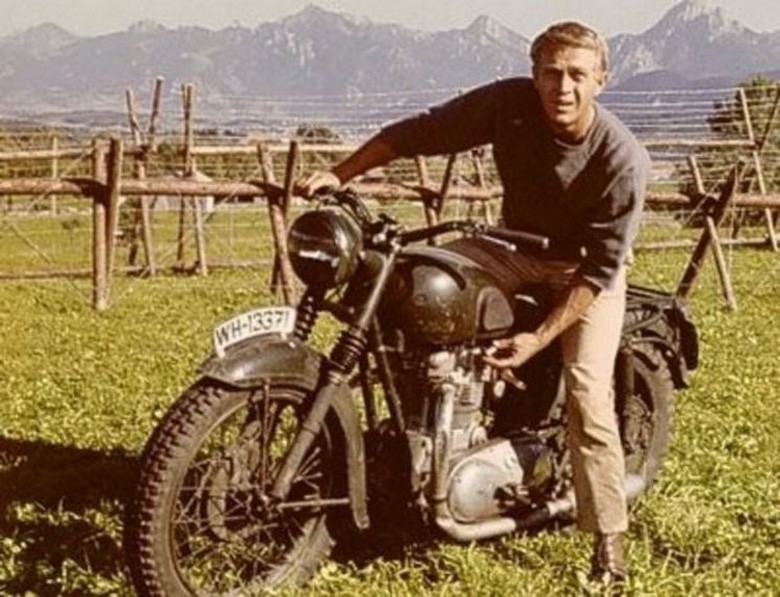 We know what you're thinking. "The Great Escape…didn't that involve Nazis? Well before 1961?" Yes and yes. The TR6 was painted German Wehrmacht gray and disguised to look like a period bike. Some period 1938 BMWs (with sidecars, even) also show up in the film. Steve McQueen was so badass playing Hilts, he kept outrunning the less-skilled German soldiers who were chasing him. As a result, through clever editing, McQueen (in German soldier costume) chases himself on this bike at one point.
Easy Rider (1951 Panhead chopper)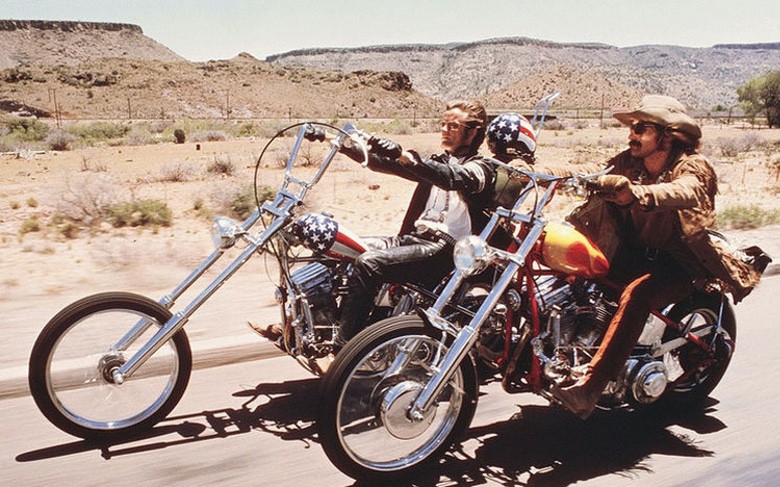 Easy Rider is the quintessential Harley movie. Period. Hands down. And Wyatt's (Fonda) "Captain America" chopper is the quintessential movie Harley–probably the most iconic Harley-Davidson motorcycle of all time. It's unlikely that this will change any time soon, despite Harley's prevalence in a great many movies since this 1969 classic was made. Two "Captain America" Harley choppers were built for filming, but only one survived the rigors of the shoot. In December 2010, the remaining "Captain America" bike was unfortunately destroyed in a fire at collector Gordon Granger's warehouse in Austin, Texas. Several builders have created replicas of this bike, and the Harley-Davidson Museum itself has a nice replica of this bike in its collection.