Gear
Base Camp Trailer For Rugged Outdoors (9 Photos)
Fully Customizable Base Camp Support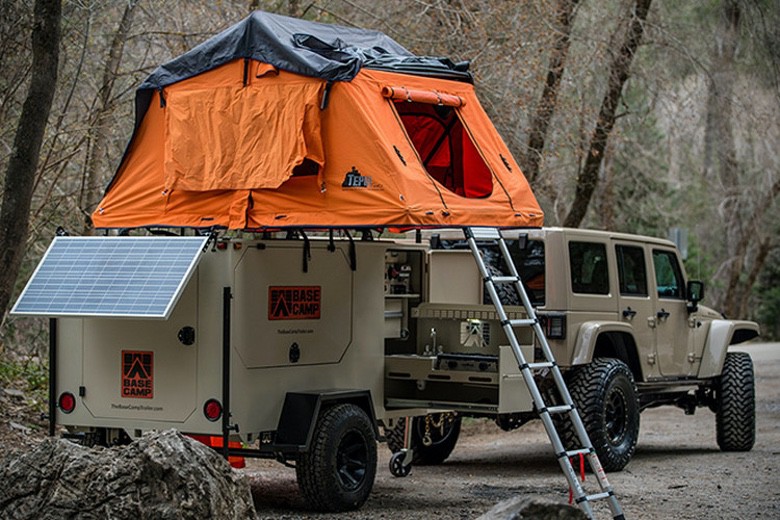 Getting out in the wilderness for a few nights of fully natural experience? Unless you want to go full Bear Grylls mode and light up potentially dangerous fires in the woods, hike for miles and satisfy your hunger with worms, guys at Base Camp have a better alternative. An American designed and built trailer equipped to handle all your needs when going outdoors by yourself or tagging your family and friends along.
The frame of the trailer is built from a thick steel tube over which a durable coating and primer have been applied. The trailer runs on 15″ wheels and features a 7-way trailer connector with 2″ coupler. Access is facilitated through 3 doors; you can load it with tools, provisions, even add extra options such as a foldable kitchen, camping tent. Other packages include an energy system that makes use of a 1200W solar panel with inverter and USB ports. A capable battery is installed to accumulate electric energy for later use.
For those aiming for rough terrains, Base Camp Trailer provides an off-road package that boasts leaf springs, trailer brakes and a handbrake. Security-wise, you can opt for a gun holder right above the incorporated bed – burglars and bears won't stand a chance. Along these presented here, there are other ten packages you can choose to equip your trailer with, according to your specific needs. The only downside is weight: rating at a little over 1 ton fully loaded, a decent towing vehicle is required to move it around.