Home
Dream House: A Unique Mountain Estate Overlooking Lake Pend Oreille (25 Photos)
A Storybook Retreat with 5 Distinctive Dwellings on 29.29 Acres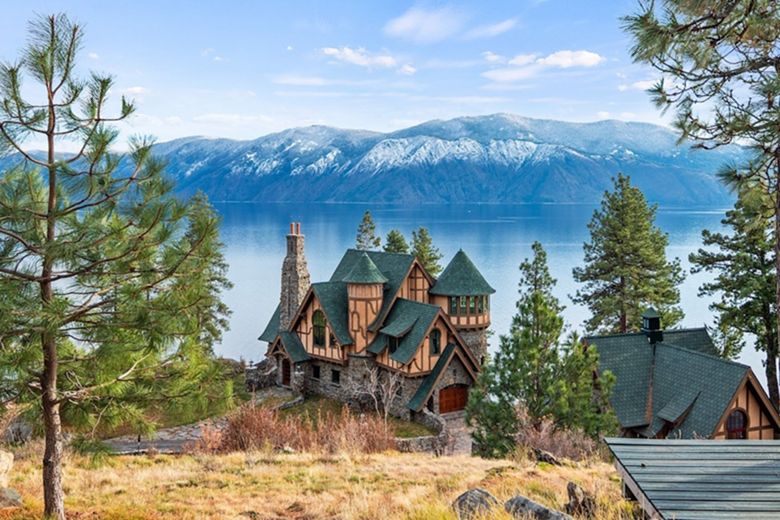 Set majestically on 29.29 acres with breathtaking views of Lake Pend Oreille, this remarkable mountain estate was a one-of-a-kind property that offered extreme privacy and unforgettable scenery. Perched 150 feet above the pristine waters of Lake Pend Oreille, the estate consisted of 5 heritage-quality buildings, encompassing over 9,300 square feet of interior space.
The design was reminiscent of charming cottages found in the British Isles or Carmel-by-the-Sea, and the waterfront location, with over 800 feet of lakeshore, ensured that this retreat was truly unparalleled.
The property included:
The Gatehouse, featuring key-hole windows
The Main House, notable for its remarkable chimney and turrets
The Carriage House, housing 4 garages and guest quarters
The Boiler House, carved into the mountainside
The Dean Mine Cabin, fashioned after English forest cabins, complete with a working water tower, water wheel, and gazebo
With no neighbors or city lights in sight, the serenity of this estate was captivating. After 15 years of meticulous design and craftsmanship, each building stood as a work of art. Originally priced at $8.95 million in December 2020, it was later reduced to $6.95 million before being taken off the market. It stands as a testament to unique architecture and the beauty of blending natural surroundings with human creativity.