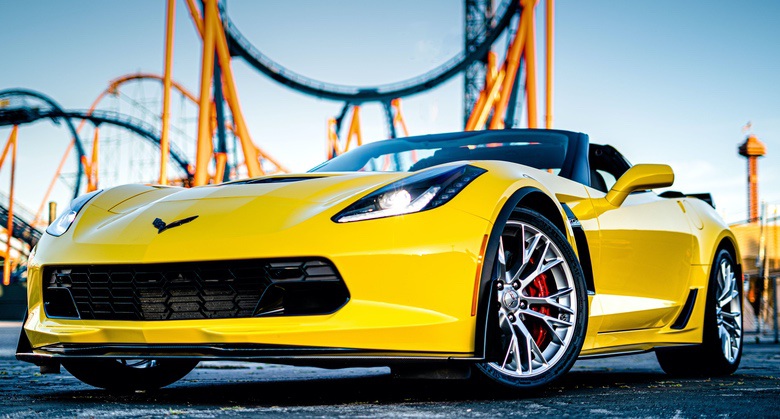 Overview
The 2019 model year represents the end of an era for the Chevrolet Corvette. It marks the end of the C7, or seventh generation of the all-American sports car and will be replaced by the long-anticipated and hoped for mid-engine C8 which will be revealed to the world on July 18th. Stay tuned, Suburban Men will be on hand for the launch!
Performance
The 2019 Chevrolet Corvette Z06 is a stunning farewell for the C7 model line and was awarded a well-deserved Car and Driver's 10 Best Cars for 2019. I'm not going to lie, I was fanboying quite when Chevy offered me the use of a 2019 Corvette Z06 with the Z07 Ultimate Performace Package. First, the numbers. Like last year's model, the 2019 Vette sports the LT4 6.2L supercharged powerplant producing a monstrous 650hp and 650 lb-ft of torque. All this power is delivered to the rear wheels via a paddle-shifted 8-speed automatic transmission.
When you fire it up, this beast sounds like a racecar and will have you yearning to get it out on a track. My test model included the Z07 Ultimate Performance Package which includes Brembo ceramic brakes, Michelin Pilot Sport Cup summer tires and the Z07 suspension.
The Z06's handling is razor-sharp. I pushed it as far as I dared on the windy canyon roads in the Angeles National Forest just north of me and there was no body roll whatsoever. And any concerns with the PC Cup tires (basically slicks with a tread painted on) were unfounded as there was not one second that I felt I was honesty challenging the Michelin rubber.
Interior
I'm 6'5″. The Corvette isn't and never has been designed for someone my size. I had to bend and twist just to get myself to get behind the wheel and then the upper windshield molding and visors were right in my line of sight. Now, I had been waiting for a very long time to get behind the wheel of a Vette, so after a little contorting in the seat and scrunching my neck down, I found a position that was comfortable enough and would allow me the visibility to safely take the Vette out onto the streets. As much of a challenge as it was getting in and out, I loved every second behind the wheel.
Conclusion
The removable hardtop model I tested has a base price of $80,900 and with the Premium Equipment Group at $8,945 the Z07 Ultimate Performance Package at $7,995 and a few other goodies tossed in, the delivered price of my test car came in at $107,220. Yes, a lot of money, but reasonable in light of the fact that you'll get comparable performance and ride to a European luxury car running several hundred thousand dollars.
I have come to grips with the fact that there is not a Corvette in my future. It's not a car that I would ever be truly comfortable in for any length of time. But damn, I had a blast in the time that I had one. It's a fitting goodbye to 60 years of front-engine Corvettes. I can't wait to see what the C8 model holds for us in July.