Travel
18 Scenic Stops Along the Pacific Coast Highway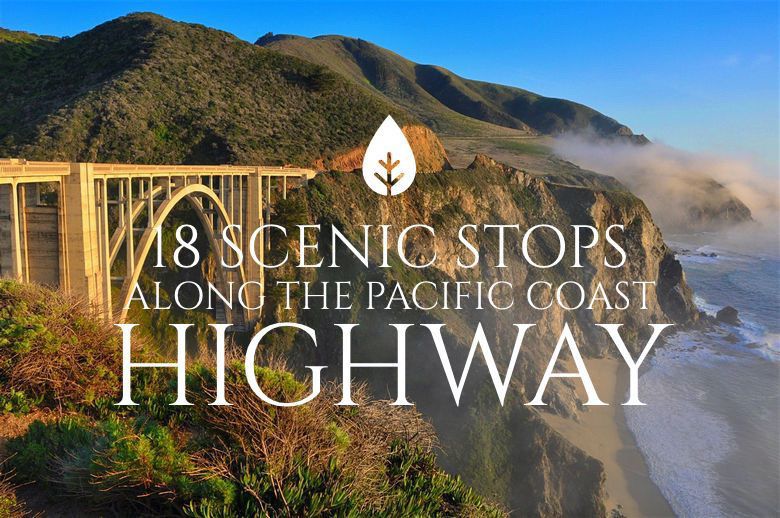 Life is short and every man should have a bucket list of adventures he'd like to experience. Over the next few weeks, we'll be sharing Suburban Men's bucket list with you and hopefully give you some ideas on what to add to your bucket list.
California's coastal route along the pounding Pacific is perhaps America's best-loved driving destination.
Many a honeymoon has been spent, a book born and a virgin road trip consummated along the Pacific Coast Highway's wonderfully winding route.
And when it comes to mind-blowing scenery, quirky stop-offs and that wind-in-your-hair serendipity of wondering what the next bend in the road will bring, few routes deliver like this one.
Also known as California State Route 1, the PCH was built in 1934 and took 15 years to complete. It runs for nearly 550 miles in California, stretching along most of the state's coastline.
Driving the route from north to south is ideal, as you'll be on the ocean side of the road the entire way, allowing unobstructed views of the jagged coastline below. Three days is a minimum, and if time allows you could easily spend more.
Redwood National and State Parks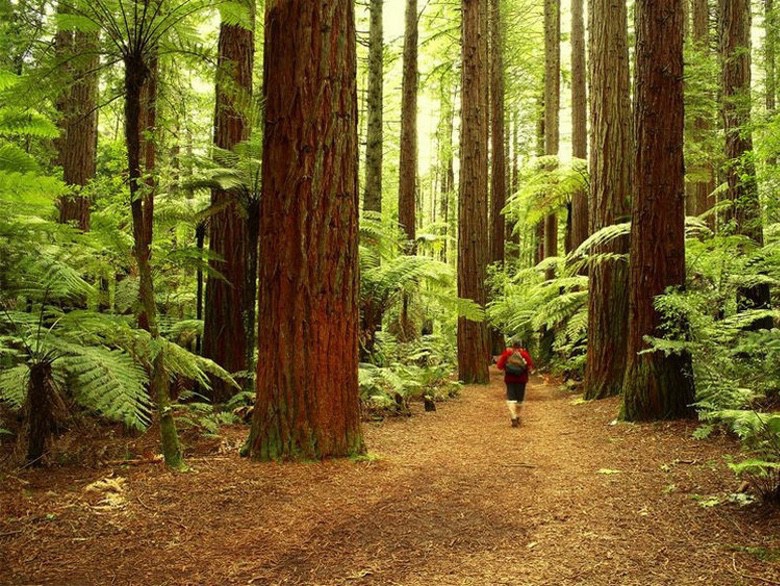 Redwood National and State Parks, located a little over five miles south of Crescent City, not only offers the chance to gaze up at the magnificent old-growth redwoods, some of the tallest trees on earth, but to experience beautiful beaches like Enderts Beach. Explore tide pools filled with a myriad of multi-colored creatures or even watch for gray whales during the migration in late December and late March. By traveling the Newton B. Drury Scenic Parkway through the ancient redwoods, you're likely to see Roosevelt elk grazing in the prairie.
The Lost Coast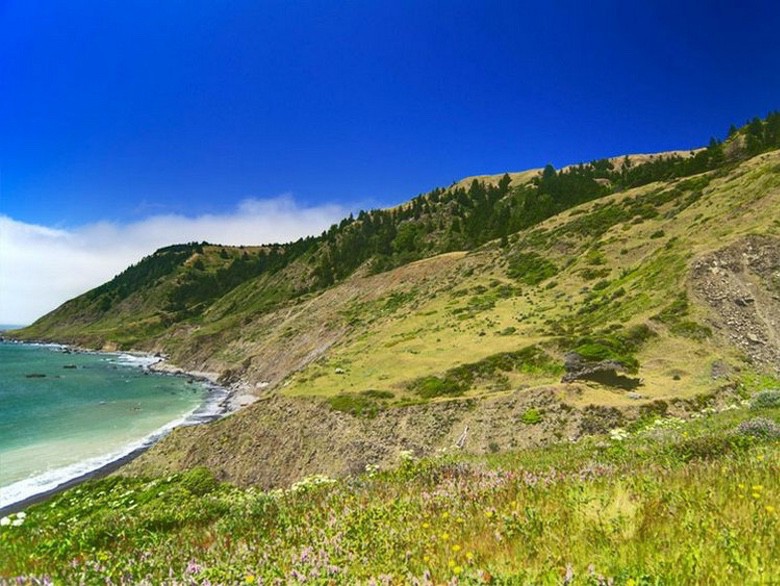 The Lost Coast is worth spending at least a day or two if time allows. You'll need to take a side trip off Highway 101, following State Route 211 for 23 miles to the coast, but it's certainly well worth the effort to discover California's most undeveloped stretch of shoreline. For surfers, the waves here are legendary, with consistent year-round swells washing onto the rocky shoreline – and for everyone else, it's simply paradise as one of the few places in the Golden State where solitude and breathtaking beauty can still be found.
Humboldt Redwoods State Park and the Shrine Drive-Thru Tree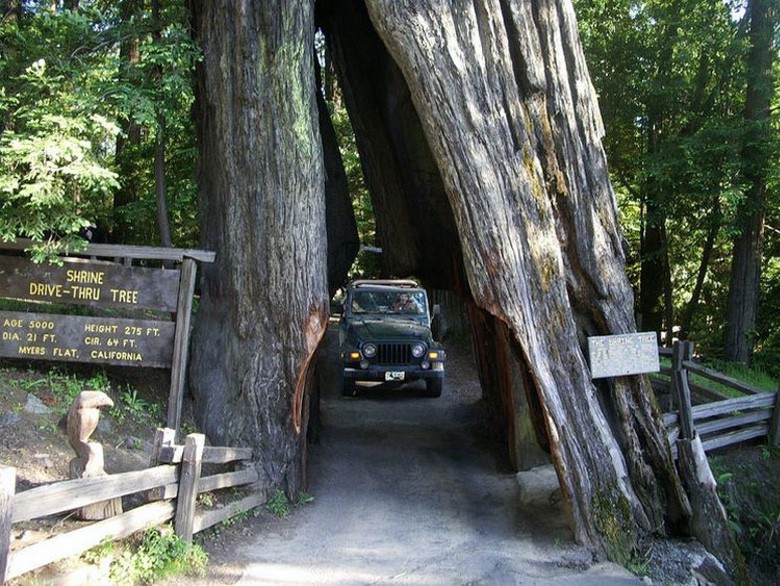 About 30 minutes after returning to Highway 101 south, you'll pass right through Humboldt Redwoods State Park, home of the world's largest remaining contiguous old-growth forest of coast redwoods. Just four miles south of the park visitor center in Myers Flat is the famous Shrine Drive-Thru Tree, where you can literally drive your car right through a massive tree. There's also a gift shop onsite, if you're so inclined.
Glass Beach, Fort Bragg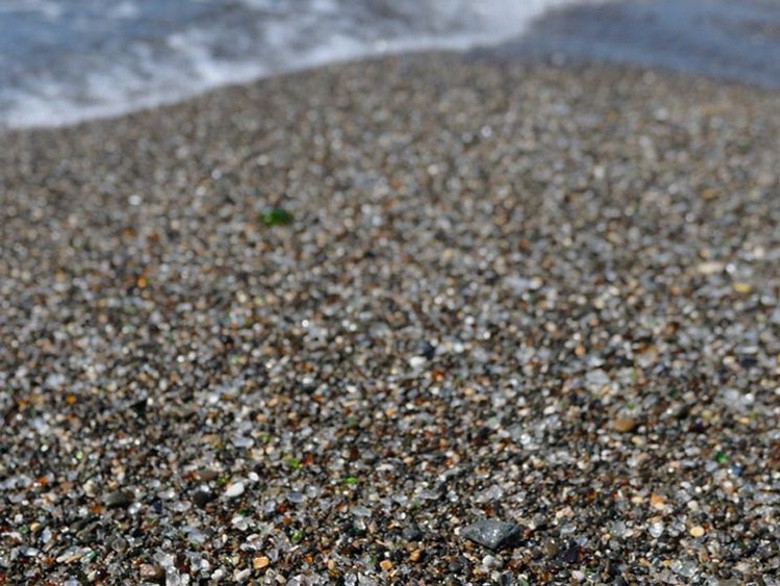 Back along the spectacular coastline, you'll come upon the town of Fort Bragg, the home of Glass Beach. The beach is made up of hundreds of thousands of small, smooth, colored pieces of "sea glass." The site was once the city dump, where from the late 1800s through the 1960s, people tossed their trash. Over the next several decades the pounding waves cleaned the beach, breaking down everything but glass and pottery, resulting in those beautiful tiny pieces that cover it today.
Mendocino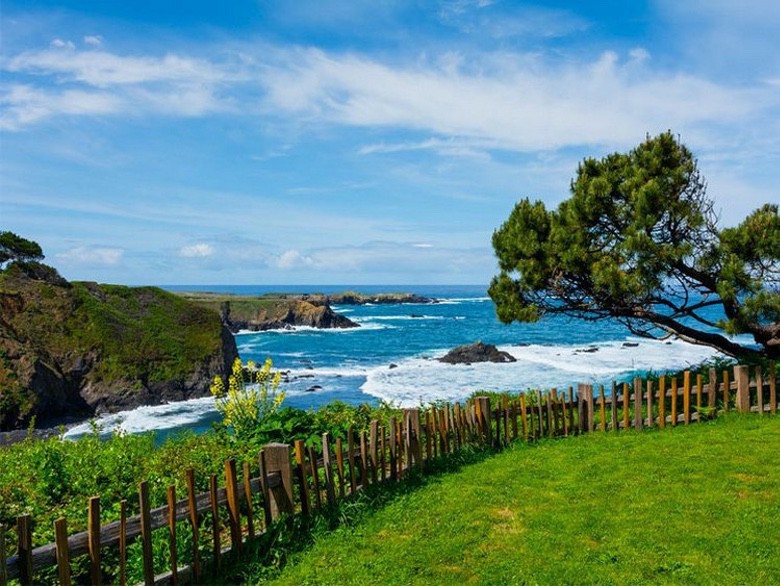 Just 10 miles down the coast, Mendocino is an especially charming coastal town, and the only one on the California coast designated as an historical landmark. Established in the 1850s, you'll find grand Victorian buildings along with saltbox cottages. It's also famous for its art galleries, stunning scenery and as the fictional home of the popular television series, "Murder, She Wrote," starring Angela Lansbury, which featured exteriors of the town and also used a Victorian B&B as Jessica Fletcher's home. Mendocino is also a great place to stop for a bite to eat, with everything from quaint cafes to upscale, fine dining with ocean views.
Bodega Bay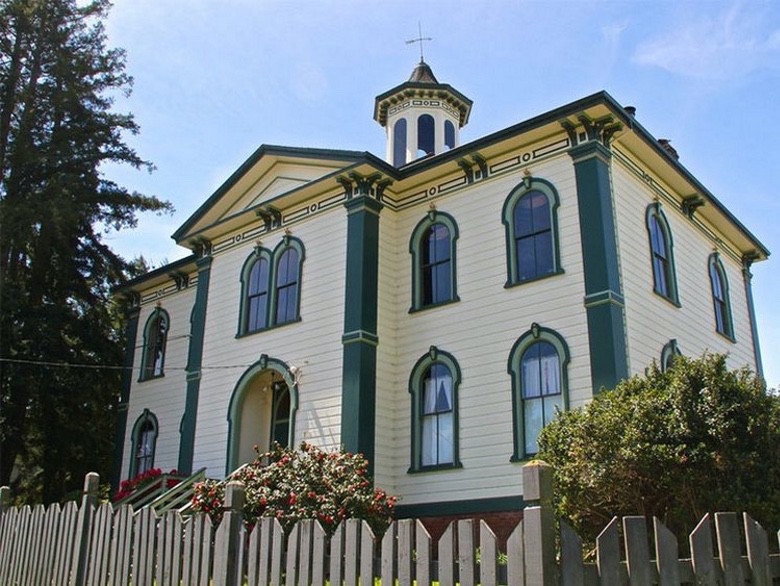 For the next two-and-a-half-hours or so, you'll wind down the coast enjoying some of the most jaw-dropping ocean views on earth. You'll be ready to stop by the time you reach Bodega Bay, a picturesque fishing village that was the setting for Alfred Hitchcock's 1963 film, "The Birds," in which murderous birds attack local villagers. If you're a fan, you may want to stop by the 150-year-old Potter School behind St. Theresa's Church, located about five miles south of town. It was used for several scenes, though today it's a private residence, occasionally open for tours. Wine enthusiasts won't want to miss Gourmet Au Bay, a waterside wine bar with a weather-protected deck and small production, award-winning wines from the local area.
San Francisco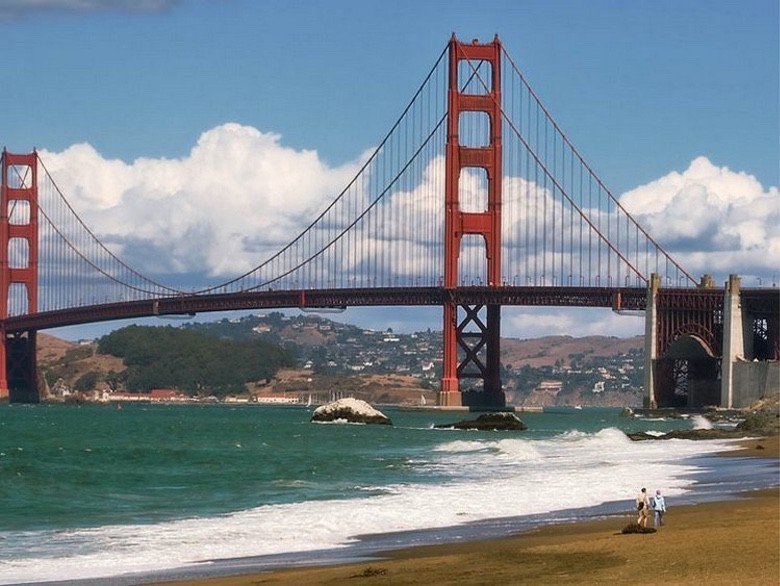 Continuing south on Highway 101, you'll find yourself traveling over the iconic Golden Gate Bridge into the city of San Francisco. Before crossing, exit the highway onto Alexander for the best views. Hopefully, you've planned to spend more than just a few minutes here. A few of the highlights include riding a cable car, touring Alcatraz Island and visiting Golden Gate Park, which houses the California Academy of Sciences, the De Young Museum, botanical gardens and more.
Moss Beach Distillery, Moss Beach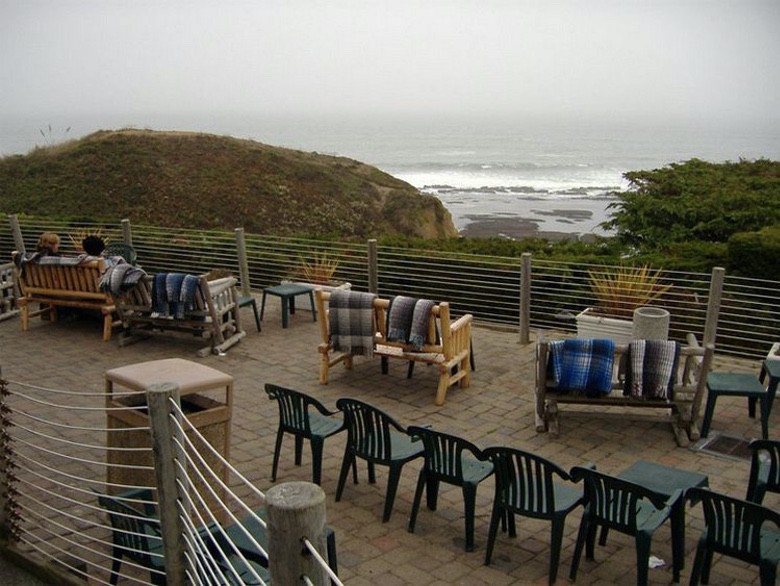 As you head down Highway One along the coast, you'll be treated to stunning panoramic views of the Pacific, and 23 miles in, you'll see a sign for the legendary Moss Beach Distillery. While it's pricey for dinner, enjoying appetizers on the heated outdoor patio is a wonderful treat. The patio overlooks the ocean – and, guests can snuggle up together next to a natural gas fire pit while dining on self-service food and beverages from the upstairs or downstairs bar. If you've got a well-behaved pooch, he's even welcome too.
Greyhound Rock Beach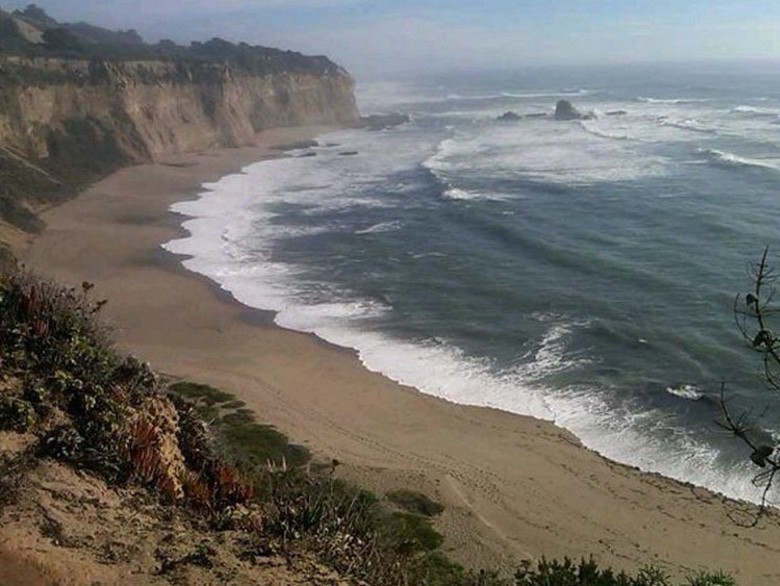 If you're looking for the perfect beach to take a break on, it doesn't get much better than Greyhound Rock. Located about 38 miles south of Moss Beach, you'll notice a sign indicating beach access to the right and a large parking lot that appears not to have much of anything else to offer, at first. Accessing the beach requires a steep, but short, walk down the cliff, which seems to keep most people away, although it's fairly easy to navigate. Once there, even during the peak summer months, you might just have this beautiful stretch of sand all to yourself. Occasionally an elephant seal will make an appearance – and, dolphins can frequently be spotted leaping from the surf.
Santa Cruz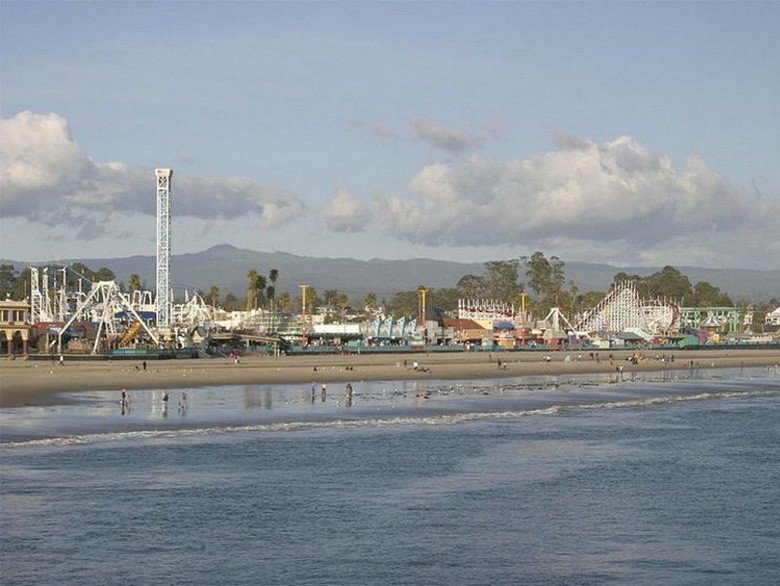 In the summer months, Santa Cruz is where you'll find the biggest crowds – and, all of the action with heart-pounding thrill rides like the Giant Dipper, one of the oldest wooden roller coasters in the nation, running since 1924. This is also a great spot to hear live music while soaking in the sun and the sand, heading out on the water with a stand up paddleboard among the otters and sea lions, or enjoying a romantic sunset sailboat ride. If you're in the mood to shop, you'll find lots of bargains in the Pacific Garden Mall, an outdoor mall with a number of outstanding thrift stores and consignment shops – along with some of the best people watching in the state.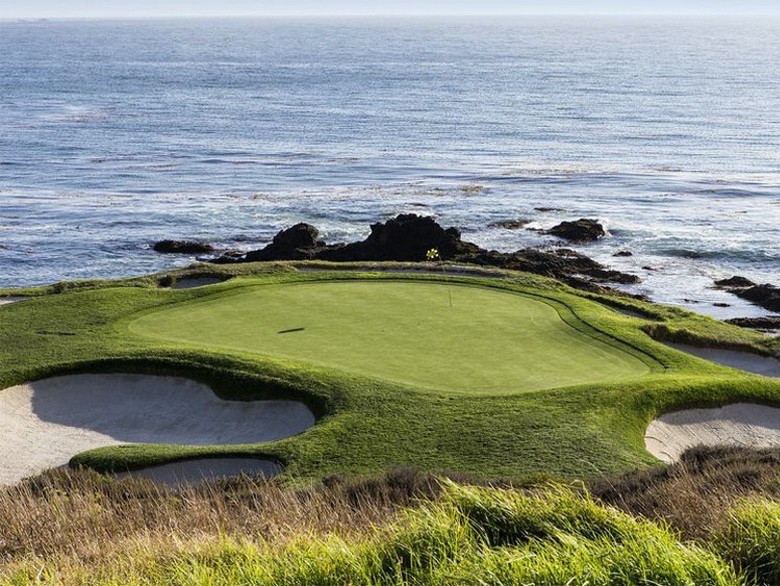 Monterey is less than an hour south of Santa Cruz. It's worth stopping to visit the renowned Monterey Aquarium. Unlike stand-alone aquariums you'll find in most other cities, it literally sits in the bay, pumping 2,000 gallons of sea water each minute into the aquarium, making it possible to sustain sea life you wouldn't be able to see elsewhere, at least without scuba gear. It features exhibits that include many different native species like jellyfish, sting rays and sea otters as well as touch tanks, so you can feel the rough surface of a starfish or the soft skin of a sea cucumber. The Monterey area is also famous for its numerous golf courses, with more than 20, including Pebble Beach and Cypress Point.
Big Sur and Pfeiffer State Beach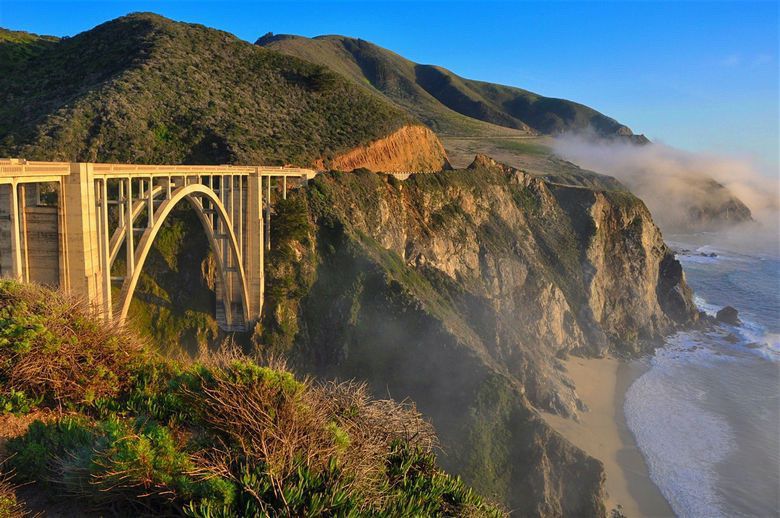 Just when you thought the views couldn't get any better, as you venture further south, winding around each bend you'll be amazed at the increasingly beautiful scenery that includes deep gorges cutting through rugged mountains, pine forests that extend to the edge of sandy beaches and even cascading falls plunging to the sea below. California's Central Coast has inspired many artists, poets and writers, and it's easy to see why. Big Sur, 25 miles south of Monterey, is the home of one of the world's most unique beaches, Pfeiffer State Beach. You won't want to miss this rare purple sand beach, with its purple hue derived from the manganese garnet deposits that are found in the surrounding rocks. With the azure-colored waves crashing against it, the contrast is simply stunning.
Hearst Castle, San Simeon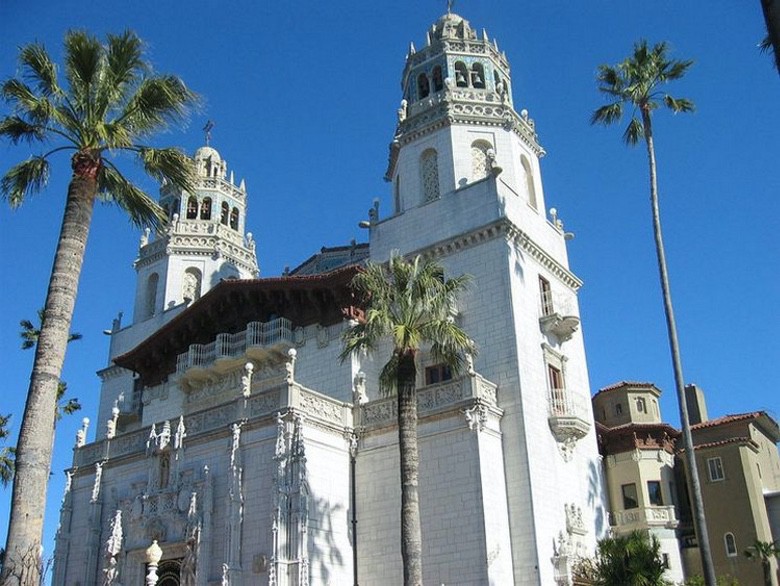 If you've ever dreamed of visiting a castle but haven't had the opportunity to travel to Europe, you can tour one right here on the California coast in San Simeon. Designed and built for newspaper magnate William Randolph Hearst, the magnificent 115-room main house, "La Casa Grande," is the setting for his extensive collection of European antiques and art pieces. The Moorish castle has 165 rooms all together, along with 127 acres of gardens, terraces, pools and walkways. Three different daytime tours are available: a "Grand Rooms Tour," an "Upstairs Suites Tour," and the "Cottages and Kitchen Tour." Advance reservations are recommended, especially during the summer months.
Santa Ynez Valley Wine Country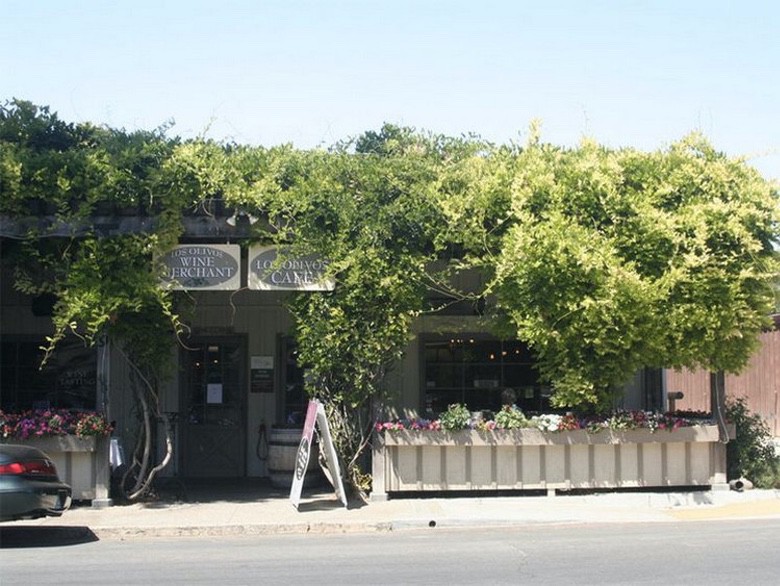 A must for wine enthusiasts, Santa Ynez Valley Wine Country is about 100 miles south of San Simeon and home to a diverse array of wines, made from grapes near the ocean in Lompoc up to the inlands of Happy Canyon. It's just a short side trip to the community of Los Olivos, where you'll find numerous art galleries, boutiques, over a dozen wine-tasting rooms and a variety of dining options from casual to sophisticated. If you've ever seen the movie, "Sideways," you'll recognize this area from many of the scenes shot here as well as nearby Solvang and Buellton. The dinner scene in which Miles famously exclaims, "I am not drinking any f***ing Merlot!" took place at Los Olivos Café and Wine Merchant on Grand Avenue.
Carpinteria Harbor Seal Preserve and Rookery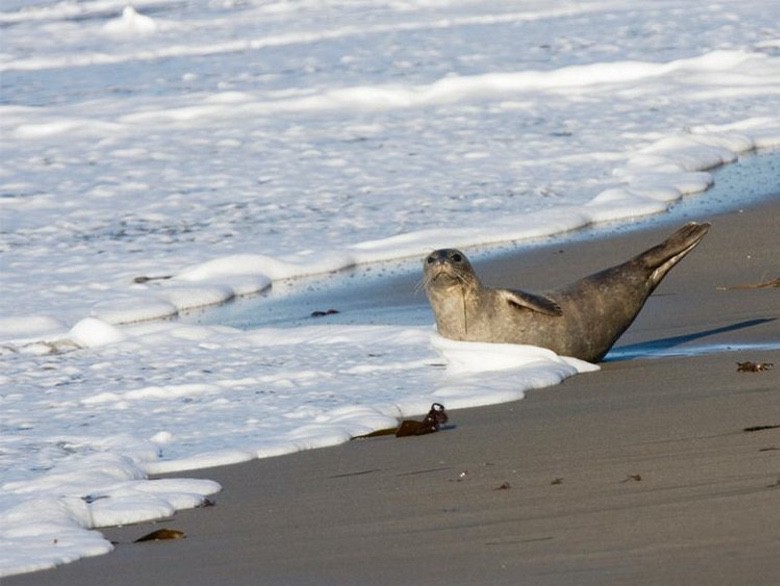 Just south of Santa Barbara in Carpinteria, the Carpenteria Harbor Seal Preserve and Rookery makes for a great stop. Its home to nearly 100 adult seals that give birth to their pups along the shoreline. During the pupping season, from December through May, the rookery is closed, but you can still see the seals from the cliffs above. The view is absolutely amazing, though you'll want to bring a pair of binoculars for an up close look. Volunteers are on hand providing informative chats about the seals and their habitat as well.
Malibu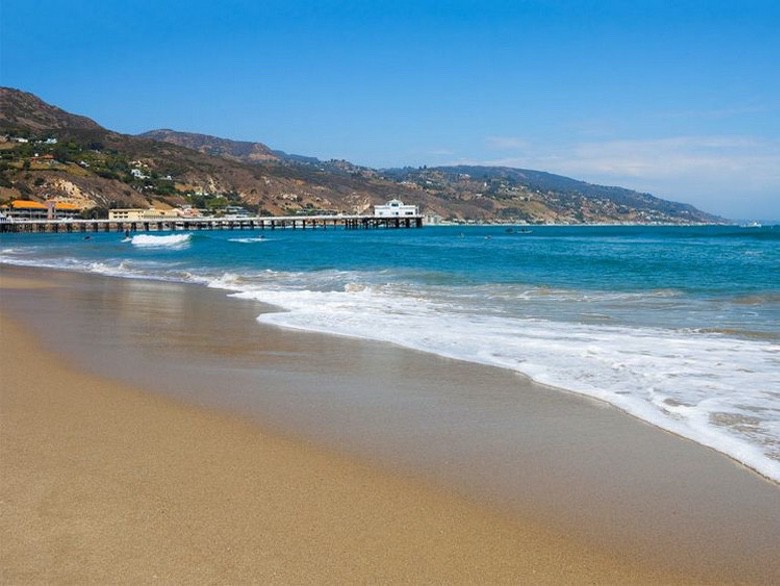 The famous beach town of Malibu is the home of a number of celebrities, beautiful stretches of sand, outstanding eateries and fun shopping opportunities. If you'd like to catch a glimpse of a Hollywood star pretending they don't want to be seen, head to Malibu Country Mart. Malibu Lagoon State Beach, formerly known as Surfrider Beach, is a good place to go for a swim in the summer and enjoy some great people watching.
Santa Monica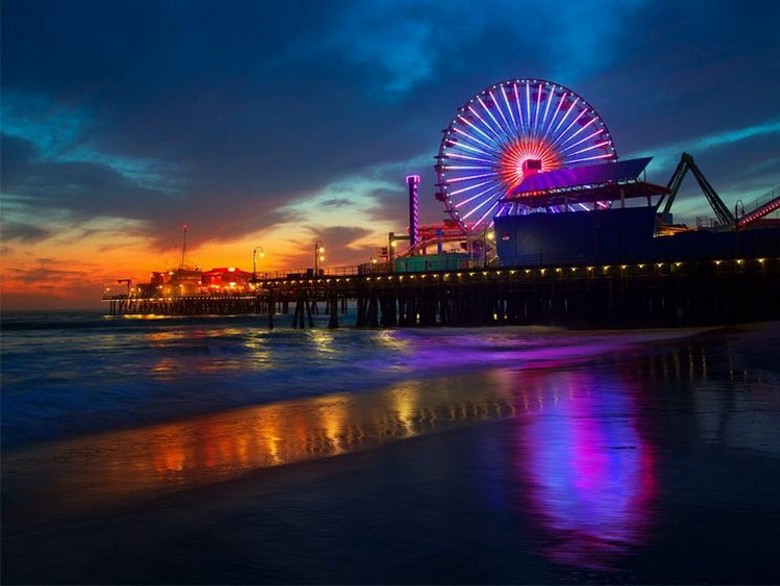 Just 30 minutes down the road, the Santa Monica Pier is a 100-year-old landmark featuring restaurants, shops, an arcade, aquarium and amusement park. Taking a ride on the iconic Ferris wheel, known as the Pacific Wheel, particularly at night is practically a must. It's the world's only solar-powered Ferris wheel and offers a panoramic view of the coastline from more than 130 feet above the pier. After dark, when it's all lit up with over 160,000 lights, it's truly a sight to see.
San Diego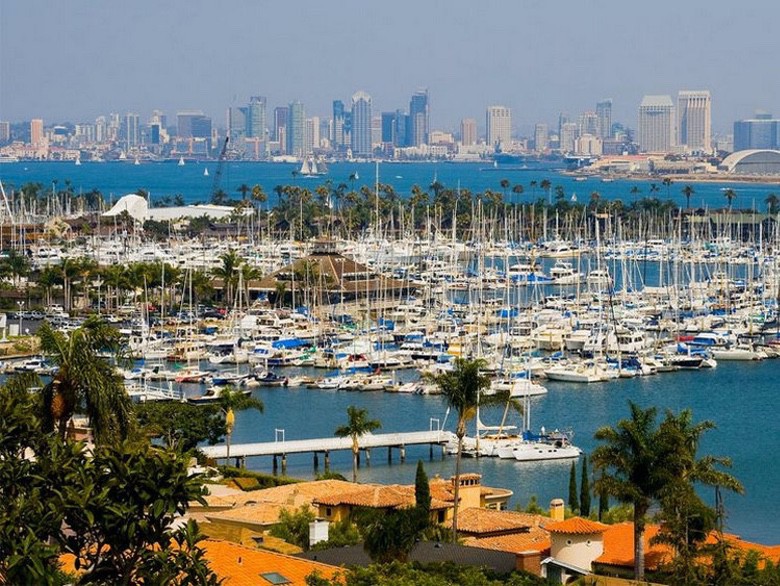 Your final destination, San Diego, offers a year-round mild climate along with miles and miles of beautiful stretches of sand to take advantage of all that sunshine. If you want to experience the best of the best, visit Coronado Beach, frequently voted as the finest in the entire nation. Here, the scene seems as if it's almost too perfect to be real, with powdery-soft sand that glistens due to its mineral content, sitting at the edge of brilliant blue waters. Of course, if you're tired of the beach, you can always visit Balboa Park, home of the renowned San Diego Zoo, museums, and a beautiful rose garden.