Life
Suburban Men Has a Lot to Be Thankful For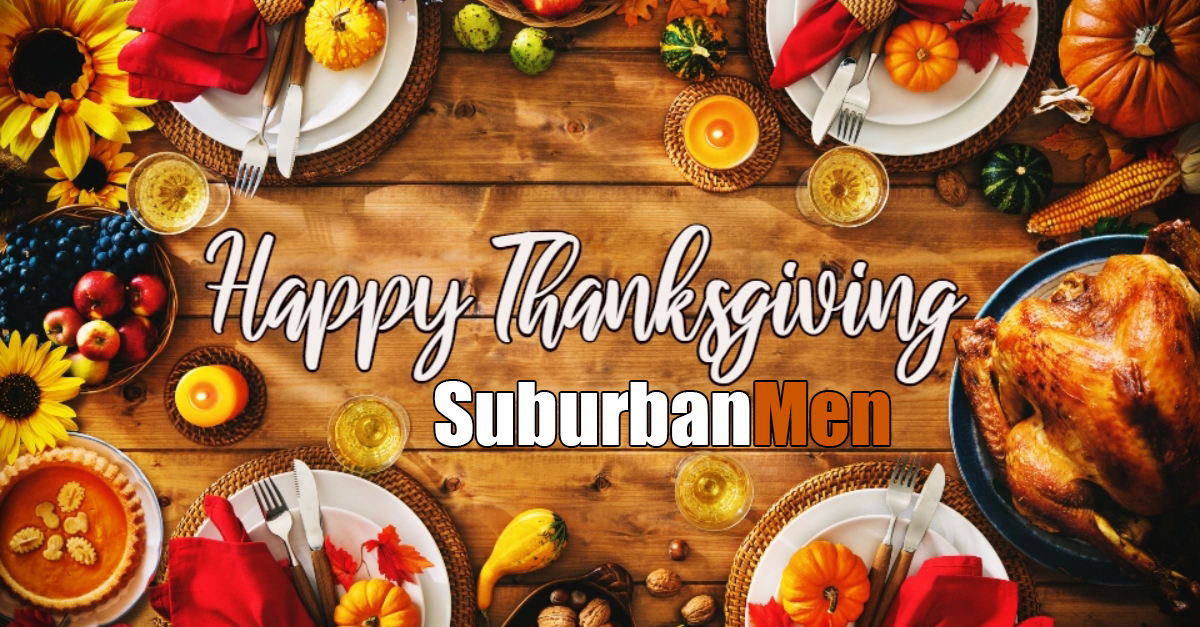 Thanksgiving is here and each year, I like to take the time to really reflect on what the holiday means and what I am thankful for.
I am thankful for you. Seriously, I am thankful for each and every one of you that visits and supports Suburban Men. It is because of you that Suburban Men exists.
I'm talking about YOU. The individuals that have helped me to grow and shape Suburban Men into what it is today. While it's not possible to thank each of you individually (I really wish I could!), here are a few I would like to mention.
To Jake, who sent an email that said, "your content provides motivation to go out, work, and live a productive life rather than get drunk and party." I have his email printed out on my wall and I look and think of it every day. You are why I do this. Thank you, Jake!
To Christopher, who provides us extremely valuable feedback and has helped us work through a few technical issues. I sleep a little easier knowing that you are out there helping us keep an eye on things. Thank you, Christopher!
To the rest of you that have reached out and connected with me. I have received many communications from you and even in the most scathing, frustrated messages, you started with, "I love what you do, but…" I need to know your pain. It's what drives me to continually try and improve Suburban Ment, our site and my conduct as a man. Thank you, all!
To the quiet followers. The ones we don't hear from but come to our site every single day. It is inconceivable and very humbling to me that we have reached you in all 50 states and 215 different countries around the world. Mind blown!
To my fellow publishers. You are my inspiration and my sanity check. Your guidance and insights are invaluable. There are a bazillion things that I still don't know about this business, but you have always been there when I was in the middle of pulling what is left of my hair out. Thank you, Paul and James!
To my dear friends back in Chicago. You reminded me not to take my self, or Suburban Men too seriously. You were there to hoist a shot, smoke a stogie or give me a hard time about being a Packer fan living in the middle of Bear Nation. You kept me grounded. Thank you Mike, Vinnie, Erik, Norm, Brian, Jerry, Matt, Kevin, Billy, Jeff, Mike B., Chris, Mark and Jay. I miss you all.
To my daughters, who are the light of my life. You are my legacy. At some point in each man's life, he wonders what is life all about? Why are we here? I look at you and I know. You are my legacy and I could not be prouder. The world is a brighter and better place for having you in it and I could not ask for anything more. Thank you, girls!
Finally… to my wife, who is my rock. You have provided me unwavering support and invaluable advice and because of you and the sacrifices you have made, I get to chase this silly little dream of mine. Suburban Men would have been something very different without you. You challenged and pushed me to make Suburban Men different when it would have been very easy to just do what everyone else was successfully doing. I am the luckiest man in the world. Thank you, sweetheart!
Enjoy today. But make sure you take a moment to not only think about what you are thankful for but share it with the ones who matter.
The rest of today will mean overeating, having a cocktail or two or six and watching some football. We'll see you all bright and early tomorrow.
Cheers and keep manning up!
Greg Baugher
Founder & Publisher
Suburban Men