Travel
My First Spring Training with Visit Phoenix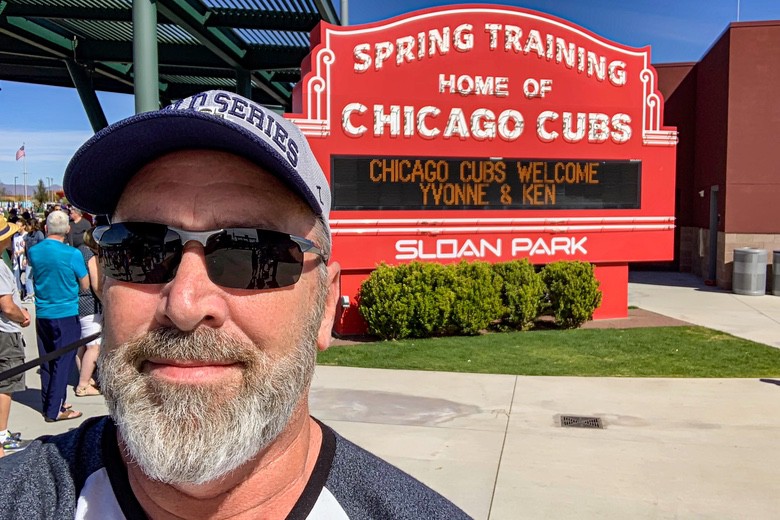 The Back Story
Baseball has always been an important part of my life. My earliest memories with my father were running around our yard playing Wiffle Ball, the bases worn to dirt spots from the countless hours of play. Little League, Pony League, high school ball. All trying to fill a hole from losing him way too soon. Playing baseball in Australia while in the Air Force in my early 30s, getting selected to the South Australia all-star team and playing in the Australian National Championships in Melbourne, finally proving to myself that I was good enough, I did have what it takes. It's always been baseball.
When Visit Phoenix invited me to join them for a Spring Training trip, I couldn't say yes fast enough. In spite of my lifelong passion for the game, I had never been to spring training. And had only been to a handful of games over the past decade. I had let our national pastime fall by the wayside.
When I received the itinerary, it was literally jam-packed with activities from morning until night. This was a spring training trip, but we also wanted to show some of the amazing activities that are available in the Phoenix area. And I was thrilled to see that multiple Phoenix area Visitors Bureaus were participating in this trip so we would get a great cross-section of what each city had to offer. I arranged with Chevrolet for the use of a 2019 Silverado RST pickup during my stay, booked flight and impatiently awaited getaway day. I'll have a full review of the Silverado up soon so stay tuned.
Upon arriving at Sky Harbor, I caught a shuttle to a parking facility where the Silverado was waiting for me. Now, if there's any phrase exemplifies our American culture, it's the iconic jingle, "Baseball, hot dogs, apple pie and Chevrolet, they go together in the good ol' USA." Even though those commercials ran on TV over 40 years ago, I bet most of you sang along in your head. There was no doubt that this was the perfect vehicle for my first spring training trip.
I had come to Phoenix a day early to attend a friend's birthday party and to make sure I had time with the Silverado to really test it out and get some photos. I drove straight from the airport out to the Superstition Mountains on the Apache Trail towards Tortilla Flat. As you can see from the photo below, it's a spectacular place. It was made even more beautiful by the fact there was snow in certain places in the mountains for the first time in 120 years.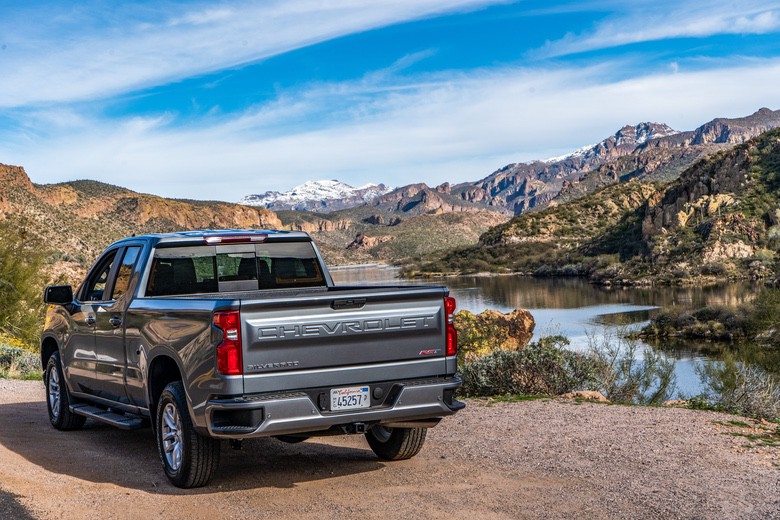 Day One – Visit Mesa
My Very First Spring Training Game
My first official two days would be hosted by Visit Mesa. I headed to the hotel to drop off my bags and meet the other influencers who would be joining me on this trip. At noon we boarded our limo for the week and headed for Sloan Park, spring home of the Chicago Cubs. Sloan Park was opened in 2014 and is the newest and largest spring training facility in the Cactus League. You probably know that I moved to California from Chicago several years ago. Walking into the stadium gave me the strongest feelings of nostalgia I have had since moving. The stadium looked like Wrigley Field, everyone was decked out in Cubbie Blue and the air was filled with the scents of Vienna Beef hot dogs, Giordano's pizza and Italian beef. And of course, the beer guys were hawking Old Style. If I closed my eyes and opened them quickly, I could almost believe I was back in the Windy City.
There really is something special about spring training. The green grass, the crack of the bat and the belief for most fans that this is going to be their year. There are no worries about falling out of contention or seeing their favorite players headed out the door at the trade deadline. And the Cubs have some of the best fans in the game. It was the perfect team and the perfect place for my first game.
Four Peaks
That evening we were off for a tour of several local breweries. First up was Four Peaks Brewery, a legend in the Phoenix-area craft brewing scene and referred to by other brewers as the Phoenix OG. We each had a beer flight and I fell in love with Kilt Lifter. I haven't tried too many Scottish Ales, But I'm really digging the richness. We also had a few appetizers for the group. I learned a valuable lesson. When your server says you want an egg on your poutine, listen to them. It was delicious. Four Peaks Brewery is in Tempe, so a big shout out to Tempe Tourism for including it on our tour.
Cider Corps
Next, we headed over to Cider Corps. Billed as Phoenix's first cidery, Cider Corps has an inspiring story. Marine Sgt. Jason Duren medically retired from service due to injuries sustained in combat, suffering two traumatic brain injuries from multiple IED blasts. During his rehabilitation, he began experimenting with cider-making as a hobby and therapeutic outlet. Receiving great reviews for his cider, he decided to make his hobby a business, partnering with his brother Josh to form Cider Corps.
Beer Research Institute (B.R.I.)
Our last stop of the evening and our dinner destination was the Beer Research Institute or B.R.I. It was a clever play of the name that our beer flights were delivered in lab beakers. For my appetizer, I had Meat Candy, which is sriracha candied bacon (you had me at bacon). Owner Matt Trethewey joined us at our table for a bit to give us the rundown on B.R.I. When I mentioned how much I liked the candied bacon, he said I had to go for the trifecta, adding the Spanglish sandwich as my main course and then a dessert of bacon bread pudding, both being made with the candied bacon. It was a delicious trio, but my mouth was on fire as I finished up.
Day Two – Visit Mesa
Queen Creek Olive Mill
The plan for the second morning was to travel a bit of the Mesa Fresh Foodie Trail. Celebrating Mesa's farming and agritourism history, the Fresh Foodie trail is made up of a dozen popular food-driven experiences. Our first stop was the Queen Creek Olive Mill. Queen Creek is Arizona's only family-owned olive farm and mill. Started with 1,000 olive trees and a shed, Queen Creek now has over 7,000 trees and a large retail experience including a store featuring extra virgin olive oil as well as many food and drink items made with their olive oil, a large selection of olive oil-based personal care products, a cafe featuring olive oil-based dishes (the vanilla olive oil waffles were spectacular) and an in-house coffee roasting company, Superstition Coffee. We arrived right as they were dumping beans from the roaster. If you are a coffee lover, this smelled a little bit like heaven. They also provide behind the scenes tours and olive oil tastings.
True Garden
After filling up at Queen Creek Olive Mill, we headed for True Garden an urban farm producing healthy and nutritious soilless foods and selling systems and supplies for home growing. I was amazed at the quality and amount of food that can be grown in the space of a standard patio planter. Behind the retail store is a large greenhouse that is the go-to fresh vegetable and herb destination for many local chefs.
Orange Patch
We were then off to a tour and tasting at the Orange Patch, one of Mesa's original citrus growers. We were given a tour of the orchard got to see the sorting process in action. It's rather ingenious, vibrating the oranges along a conveyor belt as they continuously fall through larger and larger screens. We were provided a glass fresh-squeezed orange juice and there is seriously nothing better than juice squeezed from fruit that was just picked.
Jalapeno Bucks
Our final stop was Jalapeno Bucks, which is just about the most Arizona name I have ever heard. Bucks is a salsa and BBQ joint built among the orange groves out of a couple of shipping containers. I ordered the newest item on the menu, the Peanut Butter & Jelly BBQ Sandwich. It was different, and I liked it for a bit, but after a while and thick BBQ sauce and the melting peanut butter was a bit too much for me. It's one of those things everyone must try at least once. Now, the best part of the story. Jalapeno Buck himself came over to say hi along with his wife (who is the real backbone of this operation). She prompted Buck to tell us the story of how he got his name. Now, we expected a cowboy story or something similar. Turns out, Buck was an avid Halo video game player for a while and gave the name to himself to sound more badass. Yep, it's his online game name.
Discover Salt River
After our time on the Mesa Fresh Foodie Trail, we headed over to hang out with Discover Salt River, the visitor's bureau arm of the Salt River Pima-Maricopa Indian Community. They have developed the absolutely amazing Talking Stick Entertainment District which included the Talking Stick Resort and Casino, Top Golf, Odysea Aquarium, Talking Stick Golf Club, the soon to open Great Wolf Lodge and many other dining and entertainment destinations.
Velocity VR at Octane Raceway
Discover Salt River has a fun afternoon planned for us starting with Velocity VR at Octane Raceway. Velocity VR is an immersive virtual reality experience that literally transports you into the game. We played Sol Raiders, the first team vs. team game that was just recently implemented. Since there were four guys and four girls, we divided the teams that way. The guys ended up victorious, but I was impressed at how quickly the girls improved and one more game I know they would have taken us. And Johanna from Visit Mesa had my number scoring more of my kills. Octane Raceway also has an awesome-looking indoor/outdoor go-kart track I'll have to try the next time I am in town!
iFLY Indoor Skydiving
We then headed across the street to iFLY Indoor Skydiving. Unfortunately, I was unable to participate due to recent surgery, but I had fun watch the others and taking photos and videos. As each person floated up there was a look of pure joy on their faces.
Orange Sky
To wrap up our time with Discover Salt River, we headed over to Talking Stick Resort for dinner at Orange Sky. Floor to ceiling windows and an expansive outdoor terrace provides the best evening views anywhere in the Phoenix area. We were a little late for the legendary sunsets from the Orange Sky outdoor patio. We shared several delicious starters and shared plates around the table and for my main course, I chose the perfectly cooked and seasoned beef tenderloin. After a long, but very fun day, we were ready to call it an evening.
Day 3 – Visit Phoenix
Brunch at Windsor
On our third day, it was time to transition from Visit Mesa to Visit Phoenix. Prior to heading to brunch, I loaded up my luggage and headed over to the Fairmont Princess Scottsdale. After dumping my gear, we headed into Uptown Phoenix for brunch at Windsor. Windsor is a neighborhood restaurant and bar in a renovated 1940s-era building with a backyard-style patio. After the mass quantities of food that we had eaten in the past two days, I kept it light with the Country Vegetable Chop salad.
Baseball Time Again!
It was time for more spring training baseball, and we headed to Maryvale Stadium, spring home of the Milwaukee Brewers to watch the Brew Crew take on the San Francisco Giants. Another beautiful ballpark, another glorious day and baseball. Life is good. I was thrilled to see Reds legend George Foster sitting at a table signing autographs. As you can see in the pic of probable NL MVP Christian Yelich below, you are almost right in the action.
The Heard Museum
After the game, we headed to the Heard Museum, one of the best museums celebrating the culture and art of the American Indians of the Southwest. Beautiful traditional and contemporary artwork was on display. There was a very sobering moment for me as I wandered through the Boarding School Experience. This exhibit chronicled the American government's efforts to "Americanize" Indian children by removing them from their families and sending them to boarding schools where they were given haircuts, forbidden to speak in their Native languages and forced to wear Euro-American clothing. The idea was to "educate the Indian out of them". It's a shameful part of American history, but one that needs to be remembered.
Spa Phoenician
After our time at the Heard Museum, we were off to The Phoenician, one of Phoenix's most luxurious resorts. We were taken to the spa and prepared for custom massages. I was chosen to help create a custom-blended oil which was then incorporated into my massage. After a whirlwind few days, it was joyous to have an hour of just relaxation.
Buck and Rider
We loaded up in the limo with silly relaxes grins on our faces from our massages and headed to Buck & Rider for dinner. Buck & Rider is a seafood and steak eatery located in the heart of Arcadia. We started out with the Seafood Tower and honestly, everything just kind to blurred into a food orgy after that. I was with an amazing group and everyone shared with everyone else, so we got to try many different dishes on the menu. It got to the point where we would discuss what we were ordering in advance to make sure there were no duplicates and we got the largest variety.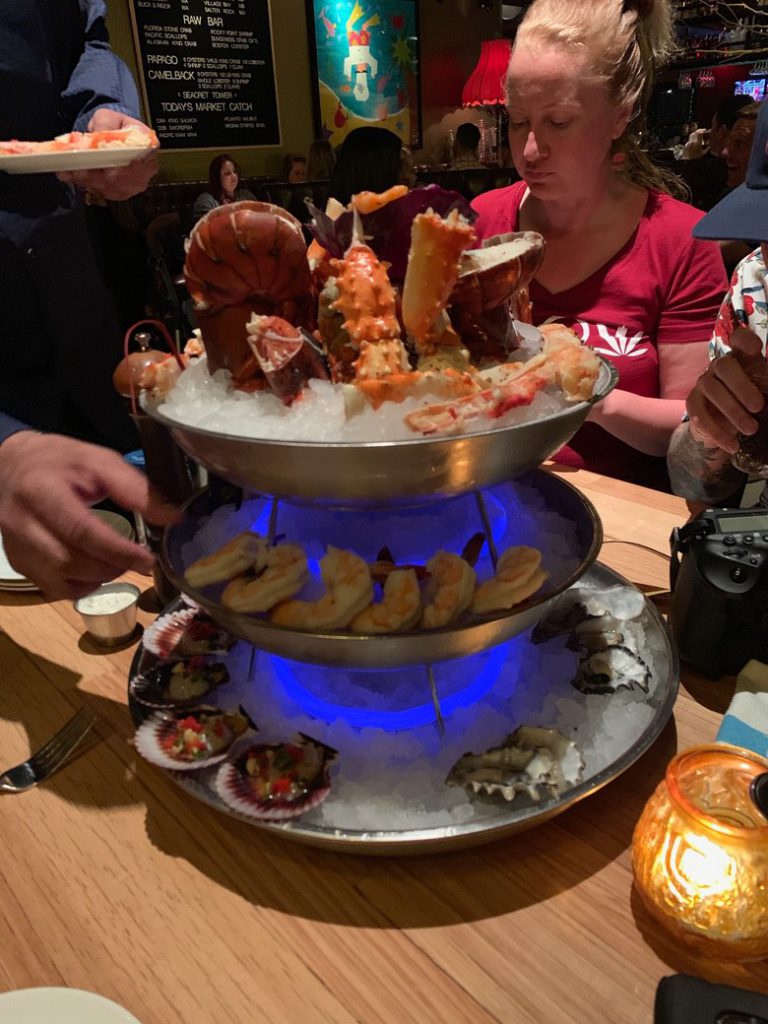 Day 4 – Visit Phoenix
Rainbow Ryders Hot Air Ballooning
We had to be up before sunrise the next morning to head to Rainbow Ryders Hot Air Ballooning. To be honest, this was the part I was most looking forward to and yet fearful of. I am not necessarily scared of heights, but I fear edges. Being on a roof doesn't scare me but get me close to the edge and I start having panic attacks. I wasn't sure how standing at the edge of a wicker basket a mile in the air would affect me. Turns out I had nothing to fear. Being in a hot air balloon didn't ping my fears at all. If you are hesitating from going in a hot air balloon because of fear, you will have the experience of a lifetime if you can get past it. We had a magical trip and I'll just let the photos below tell the rest of the story. The last thing I'll say is that that champagne and mimosa tradition at the landing site was the perfect ending.
Our Final Game
It was time for our final spring training game at the Peoria Sports Complex which is the spring home of both the San Diego Padres and the Seattle Mariners. Our game would feature the Mariners hosting the Milwaukee Brewers. The folks from Visit Peoria AZ were on hand and gave us an awesome tour of the facility and front offices. As we were wrapping up our tour on the upper level, Ichiro Suzuki was announced as a pinch hitter. Everyone stopped and moved to get a better vantage point to watch this sure bet first-ballot Hall of Famer take his swings. Most of us had never had the chance to seem him bat live. As he had done a thousand times before, he poked a grounder through the right side of the infield for a single. The crowd responded with a standing ovation for this great player. He would wind up retiring from baseball only a couple of weeks later.
Modern Round
Modern Round describes itself at the Top Golf of shooting. Basically, there are 20 shooting lounges with 12'x6′ screens and you use realistically feeling and weighted laser weapons to interact with games on the screen. There were a variety of games from more cartoony for those not comfortable with more realistic violence to full-on military combat and police scenario games. I really enjoyed the games for about the first half-hour, but then it became a little repetitive. It could be due to my experience with real weapons in the military. Some people seemed to have a blast for the duration.
The Churchill
Who doesn't love a good happy hour? The Churchill is not only a cool concept, but I believe will be a massive trend in the years. Located on Roosevelt Row, The Churchill is comprised of 10 small local business cohabitating in a structure made of shipping containers surrounding a 9,000-foot courtyard for eating drinking and socializing. The truly genius aspect is that the co-creators Kell Duncan and Hartley Rodie were able to secure a liquor license for the entire space instead of each individual business getting their own. Why is this important? If each business had its own liquor license, it would have to maintain and segregated and secures seating area for their customers. With the "community" liquor license, I can head over to The Pobrecito Cocktails (which I did) for an old fashioned and a friend can grab one of 24 beers on tap from The Brill Line and we could all sit together. Another benefit is communal facilities such as restrooms removes the responsibility from each shop of maintaining their own.
Dinner at Match
Match is a neighborhood eatery serving American comfort food located inside the FOUND:RE Hotel in downtown Phoenix. I am mortified that I cannot remember the head chef's name to give him the credit he deserves but this man loved preparing food. He stayed at our table for a good long while. And when we mentioned we needed to take photos of his food for our stories, HE MADE DUPLICATES DISHES OF EVERYTHING JUST FOR THE PICTURES! Did make it clear how amazing this man was? He also set up a separate table in the best lighting so we could get the best shots. Most restaurants have the worst foo lighting ever. My steaks always look gray, but this chef is living in 2198. He gets that social media drives more people to or away from restaurants more than traditional media ever has.
Day 5 – Discover Gilbert
Fairmont Princess Scottsdale
Waking up my last morning in my luxurious room at the Fairmont Princess Scottsdale, I realized that I had slept like a rock. It was a combination of the million things we had already done and the unbelievably comfortable mattress in my room. Equal parts firm and comfortable, I didn't want to leave my bed that morning. My new buddy Vern and I had been asked by Discover Gilbert if I would like to extend my trip by an extra day and I was happy to explore Gilbert. I was scheduled to do Goat Yoga (yes, it's a thing… Google it), but I just couldn't pull myself out of bed. And honestly, the only time I had spent at that Fairmont I was sleeping, I wanted to enjoy my room a little before I left and wander the grounds of the beautiful resort to get some photos. The grounds are massive. Staff transports themselves and guests around the grounds on golf carts. And at the front valet and bell staff dress like cowboys. But, not in a lame Urban Cowboy kind of way, but in a "this place is awesome in a kind of ritzy way". I took advantage of my little self-made lull enjoy breakfast from room service and the sunrise from my balcony. It was, of course, overprices as room service always is, but it was perfect sitting and watching the sunrise.
Liberty Market & Downtown Gilbert
I lulled around a while longer, took a long hot high-pressure shower in the Fairmont's spacious bathrooms. Realizing I had lulled around until almost checkout time, it was time to head to my final stop, Gilbert. We headed to downtown Gilbert to meet Glenn from DiscoverGilbert at Liberty Market for brunch. Liberty Market is a former food market and has maintained the same name and location since 1935. With a deep connection to local farmers and suppliers, the chefs cook up creative, craft cuisine that is recognized both locally and nationally.
Agritopia
After taking a bit to check into our new hotel, we headed to Agritopia and Barnone for a wine tasting. Agritopia is planned community located in Gilbert, AZ centered around the former Reber family homestead. It incorporates a certified-organic urban farm, charming homes, restaurants and Barnone, a collective of craftsman across many different disciplines sharing space and resources. Our wine tasting was at Garage East, owned and operated by a former Gilbert Fire Department battalion chief, and is a self-proclaimed "farm winery". The staff blend and barrel their own wine using grapes sourced from Dos Cabezas WineWorks in Sonoita, Arizona.
White Rabbit
After our tasting, our host had to depart for a family obligation leaving Vern and on our own for the rest of the evening. Honestly, that was fine with us. It allowed us to explore at our own leisure. We rested for a bit at our hotel and then headed back to Downtown Gilbert. Vern was excited to discover there was a genuine speakeasy. Speakeasys popped up during prohibition and are known for being hidden in plain sight and requiring a password to get in. Vern did his homework and got us in on the first try. We were led down to the basement where The White Rabbit, a really cool bar with Prohibition-era decor awaited us. We each had a couple of drinks and I swear, Vern looked like a little kid on Christmas morning.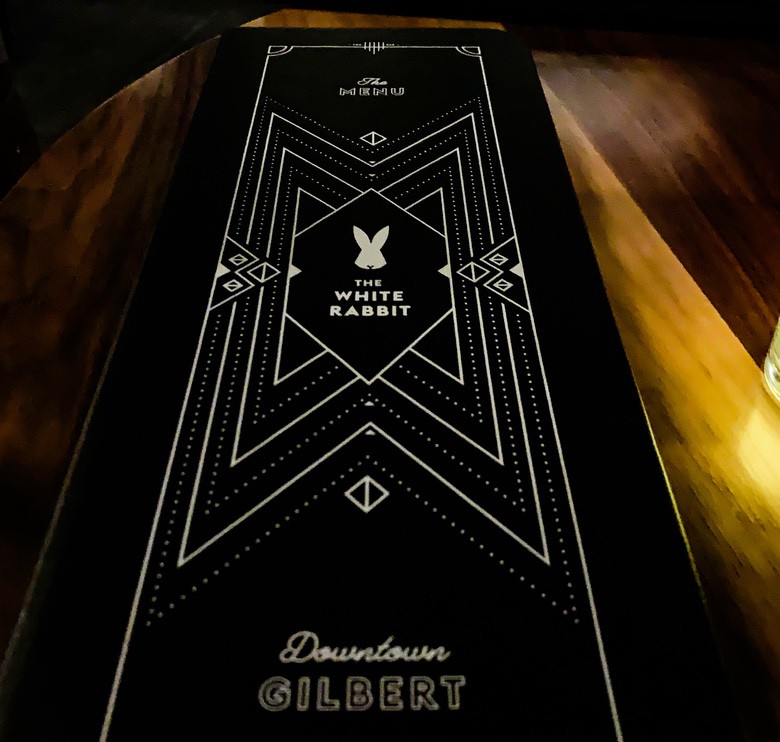 OSHO
We then headed over to OHSO Brewery and Distillery for dinner. OHSO looks rather small from the street, but it's massive. There are plush bench seating and yard games on their large, dog-friendly patio and homemade dog treats! OHSO serves burgers, fries and additional American comfort foods are served alongside signature drinks and craft beer.
Conclusion
This was one truly amazing and epic trip. Looking back, I can't believe the number of activities and adventures we crammed into just a few days. I can't thank my friends (and I truly consider them friends) from Visit Phoenix and Visit Mesa for inviting me to this trip. As I mentioned earlier, this trip crossed many city borders and numerous CVB staff were needed to make it all possible and run smoothly. If you are planning a trip to the Valley of the Sun, reach out to the folks below to plan the perfect adventure. It's a free service and no one knows their communities as well as they do.
Visit Phoenix
Visit Mesa
Discover Salt River
Discover Gilbert
Visit Peoria AZ
Tempe Tourism