Travel
Hotel Paseo is a Palm Desert Gem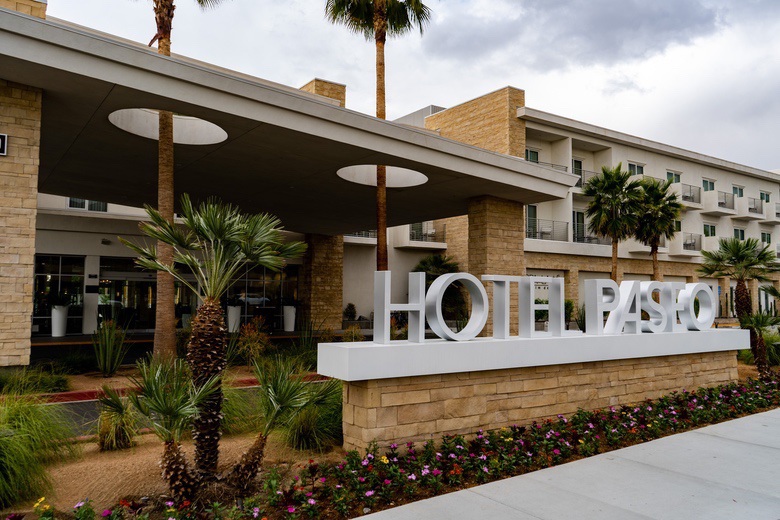 My family and I have visited Palm Springs several times since moving to California and when I think of Palm Springs, I think of, well, Palm Springs. But nestled in the Coachella Valley along with Palm Springs are eight other cities with their own unique charm and personalities.
While attending a driving event at the BMW Performance Center West in Thermal, California, I stayed at the Hotel Paseo, a luxury boutique hotel located steps away from upscale shopping, art galleries, dining, and nightclubs on El Paseo, known as "The Rodeo Drive of the Desert." Hotel Paseo is part of Marriott's Autograph Collection, a showcase of boutique hotels from around the world.
The Hotel
Hotel Paseo is the first luxury hotel to open in Palm Desert on over 30 years. When entering the lobby, you notice the fresh, stylish lobby with a unique collection of art that is very eclectic and yet works together well. It evokes the "Palm Springs vibe" without going overboard or looking too kitschy.
Located in the lobby is The Cafe, a combination coffee stand and convenience store that serves Starbucks coffee and a variety of fresh-baked goods. It's a tad pricey, but that's the price for the convenience of not having to go off property for a drink or snack.
Amenities
The pool courtyard features three pool cabanas and the Lemondrop bar. It also includes a putting green and a turf area for playing cornhole. I liked the fact that the courtyard and in fact the entire hotel itself stayed away from incorporating earth tones in their design. I love coming to and exploring the desert, but I don't have to feel like I am immersed in the desert every minute I am there.
One of the most unique and coolest features of the Hotel Paseo is the inclusion of a vintage Airstream RV that is available to rent as your room. It helps to give the entire courtyard a bit of a throwback vibe that I enjoyed.
The Room
My room was a standard hotel room. There seems to be a trend to try and "modernize and optimize space" in hotels lately so I was pleased to see I had a chair with an ottoman and a proper desk to work at. For a long time, I maintained that a hotel room wasn't that important to me. As long as it had a bed and a shower. But, as I am getting older, the little comforts are becoming more important to me. And this is where Hotel Paseo shines. The bed was firm and very comfortable with high-quality linens. And, this may sound silly, but one of my favorite things about the Hotel Paseo is the shower. I love a large shower head with tons of pressure and I was not disappointed.
AC3 Restaurant
Located just off the lobby is the AC3 Restaurant + Bar which was named the Best New Restaurant in Palm Desert for 2019. AC3 is a collaboration of two of the Coachella Valley's best restaurants, Trio Restaurant and Copley's On Palm Canyon. The New American cuisine from Owner/Chef Andrew Copley featuring recognizable dishes created from locally sourced fresh ingredients.
As a group, we chose Black Truffle Pommes Frites, Crispy Brussel Sprouts and the AC3 Cheese and Meat Board. My favorite was the Brussel sprouts which were crispy without feeling they were bathed in oil. For my main course, I chose the Braised Prime Beef Short Ribs which was served with Garlic Potato, Grilled Asparagus, Caramelized Onions and a Merlot Reduction. It was hearty and delicious and had a comfort food feel to it. And now dessert. Our server brought us one of every dessert on the menu. It was a nice variety my favorite by far was the first one recommended by our server, the Banana Bread Pudding.
Conclusion
I enjoyed my time at the Hotel Paseo. It was a bit of a whirlwind trip and I look forward to returning soon to relax a little more and enjoy more of the hotel's amenities. The location is awesome with a ton of shopping and entertainment options within a short walk. The integrated AC3 Restaurant + Bar serves delicious food with great service and features a bar perfect for gathering around after a long day. If you're headed to the Greater Palm Springs area, give the Hotel Paseo a look. Honestly, I would recommend it just for that shower.